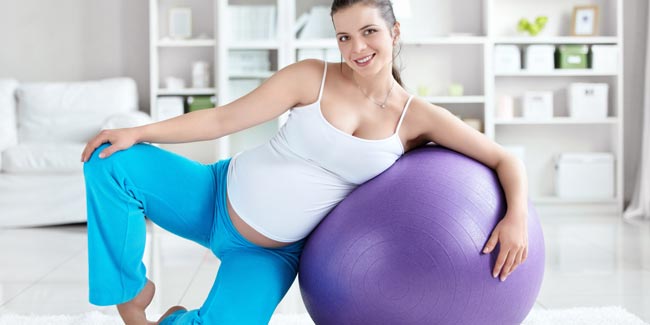 Although you may not feel like running a marathon, most women benefit greatly from exercising throughout their pregnancies. But during that time, you'll need to discuss your exercise plans with your doctor or other health care provider early on and make a few adjustments to your normal exercise routine. The level of exercise recommended will depend, in part, on your level of pre-pregnancy fitness.

Boosts energy and stamina: Fatigue and exhaustion is very common during pregnancy as the body is not capable of handling the changes that gradually happens. Exercising helps tone and builds up stamina of the body which makes tackling the rigors of pregnancy much easier. Cardio and strength building exercises make your body strong and help you manage work more easily without much fatigue.

Prepares your body for childbirth and other toils:

Coping with labor and childbirth needs a lot of stamina and determination. Women can face hours of labor pain before actual delivery. Exercising helps your body deal better with labor pain and delivery. Various complications can be reduced during delivery if the body is fit and toned to take all the pressures associated with childbirth. Exercising boosts lung capacity which can help in managing labor pains better by breathing techniques.

Helps you manage pregnancy related symptoms:

The various symptoms of pregnancy namely backache, bloating, constipation and swelling can be dealt better with regular moderate exercise. Exercising helps in stretching and toning the muscles which then help the body deal better with cramps and aches. Exercising also boosts blood circulation which can help in reducing swelling.
Aids better sleep: Pregnancy can cause many discomforts which may give you sleepless nights. Exercising can make you feel so tired that a restful sleep is ensured.
Reduces stress and manages mood swings: Exercising releases "feel good" hormone endorphins and serotonin which gives a feeling of euphoria. It helps you in being distracted from the idea of pregnancy and labor making you focus on yourself.

Keeps you "pregnant-fit":

Many women gain excessive and unnecessary weight during their pregnancy making both pregnancy and labor difficult. Moderate exercise helps you keep control on your weight and boosts overall fitness. Exercising also improves bone health making them strong, thereby improving your posture and avoiding osteoporosis. A good posture is important to keep body aches at bay as well as preventing any pressure from building up on the abdomen which happens while slouching.

Helps your body recover better post delivery:

Maintaining a fitness during pregnancy will help your body recover faster after childbirth as you will not have to work out extensively. Regular exercising keeps your muscles toned and more receptive to workouts while no exercise can make you flabby and your body will not be as receptive to fitness making you work twice hard.
Carrying out a prenatal and postpartum fitness program is one of the best lifestyle and health choices you can make. Before you begin (or continue) an exercise program, always get clearance from your caregiver.
Read more articles on Exercise during Pregnancy