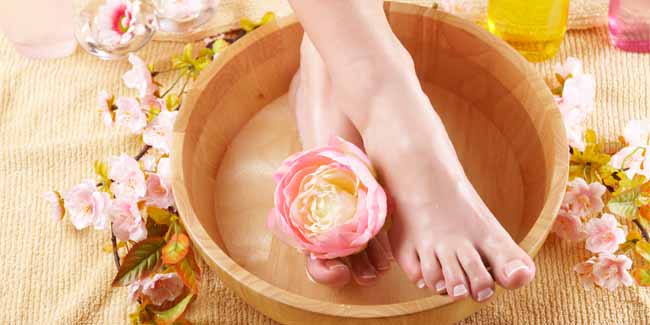 Feet are the most neglected part of our body because of its less chances of visibility. Beautifully done up feet say a lot about hygiene and attention to detail.
How many of us actually take the pain to take care of our feet? Very few, as feet are the most neglected part of our body because of its less chances of visibility. A woman or a man with beautifully done up feet speaks for herself as it says about the hygiene and attention to detail. Our feet bear maximum brunt of our day to day activities, carrying our weight around and being enclosed either in shoes which makes the skin unable to breath or being wrapped up in a sandal, open to all dust and grime. The skin on the feet is thicker than skin on our hands and tends to get dirty overtime as care is not taken everyday.
Many people face problems of cracked heels which happen overtime due to neglecting out feet health. Dead skin cells on our feet needs to be exfoliated and regular moisturizing is important to prevent the skin from drying and cracks getting formed on the heels which can start bleeding. Moisturizing your feet is as important as taking care of your face. Get into the habit of giving a little wash or scrub to your feet every time you take a bath. It makes taking care of your feet easier.
Skin on the feet is prone to friction which can be caused due to ill-fitting shoes or faulty style of walking. Corns and calluses get formed when a particular point of foot's sole is constantly pressurized; skin gets hardened and might cause pain eventually. Daily feet care can help prevent foot problems as scrubbing with a pumice stone can slough off the dead cells. Given below are some pointers that can be followed to care for your feet:
Keep corns and calluses at bay by scrubbing with a pumice stone or a foot scrub which helps in removing dead skin which eventually starts building up becoming hard and thick and causing pain while walking.
Moisturize your feet as you take care of any other part of the body. The sole of the feet does not have any oil glands to keep it soft hence a routine to lather it up with cream is essential. If you have extremely dry feet and the skin is cracking up, use a heavy duty moisturizer or petroleum jelly generously on your feet while going to bed at night and cover it up with cotton socks for better absorption.
Wear shoes of the right fit as a loose or tight pair can do much harm by not supporting your feet. Shop for new shoes late in the afternoon or evening as some experts believe that our feet tend to swell during the day or late night. Ensure that your toes can wiggle but your heels don't come out while trying out new shoes.
Our feet are prone to fungal infections and to prevent them one has to maintain hygiene. Feet should never be left damp; it should be dried thoroughly especially between the toes. Toenails should cut properly with a nail cutter.
If your legs are sore and aching, you can soak them in warm water in which sea salt is added. It soothes pain and calms the nerves.
To relax your feet you can massage the sole with soft kneading hands. Gentle rotating movement and soft massages help relax your feet.
Avoid high heeled shoes if your heels are paining as it can cause more stress.
Read more articles on Skin Care.