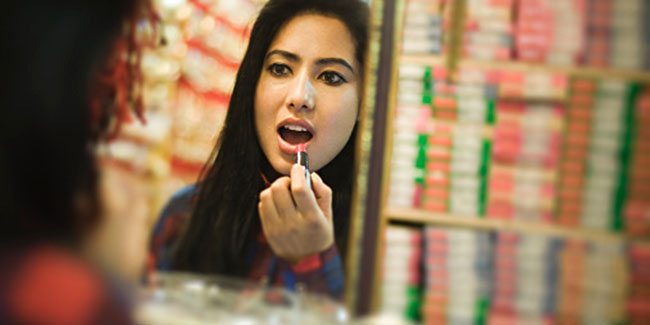 Different seasons call for differentiated application tricks for long-worn make-up. Skin demands extra care during winters.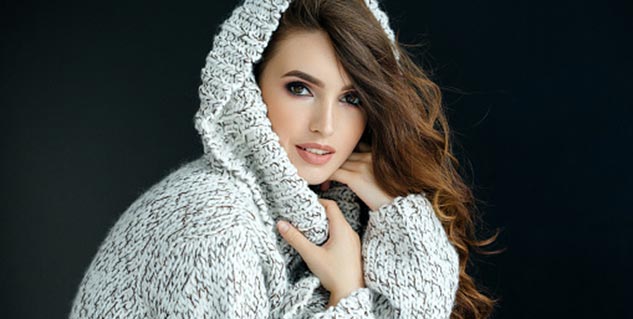 Make-up in winters should be applied in a particular way to prevent dryness. Find out how:
Make–up base
If there is excessive dryness, as in dry skins, the skin should be cleansed first with a cleansing cream or gel. For oily skins, a cleansing milk would be better. Then apply a moisturising lotion. This gives a moist base for make-up.
For the day time, apply a sunscreen lotion. Wait for five minutes before applying foundation, to allow the skin to absorb the moisturiser. For foundation, it is better to use a creamy one in winter.
If your skin is oily, add a drop of water to the foundation, mix well and then apply. After applying foundation, blend with a damp sponge to give an even finish. The aim is to achieve an even effect.
A damp sponge is very useful for blending foundation. Apply foundation on the forehead and on either side of the nose. Using a damp sponge, spread it evenly and smoothly outwards. Cover the eyelids too.
Then apply it on the chin and smooth it along the jaw line, blending slightly upwards, towards the cheeks. Also, go downwards to the neck. Blend well and see that no lines of demarcation are visible. Then apply powder. This helps "set" the foundation.
After applying powder, use cotton wool or a clean brush to dust off the excess. Make sure that the powder does not settle in the lines and creases, especially around the eyes.
For your eyes
For winters, try to use creamy eye shadow, rather than powdery ones, especially if the skin is dry. Creamy eye shadows are more difficult to apply, but they will not cause dryness and will give a better effect in winter.
[Read: Essential Beauty Secrets for Teenage Girls to Look Naturally Gorgeous]
Lip care in winters
For the lips, it is important to ensure that the skin on the lips is in good condition. The lips do not contain any oil glands and need to be kept well lubricated.
Every night, after cleansing the face and removing make-up, apply a nourishing cream or almond oil on the lips. When you are at home and not wearing make-up, apply almond oil or malai (cream of milk), so that the skin stays soft and smooth.
If there is dry skin on the lips, rub them gently with a moist towel, to loosen the skin, before applying lipstick. Use creamy and shiny lipstick, rather than matte lipsticks, for winter. Matte lipsticks cause further dryness.
Use a lip pencil to outline the lips and then fill in with colour, using a lip brush. The lip pencil and lipstick should be of the same colour, because obviously outlined lipsticks are out of fashion.
After applying lipstick, use a colourless lip gloss to add shine and a wet look. This is more appealing in winters. In some cases, there is a problem of dark lips. This may become more obvious during winters. One lip may be darker than the other. To help lighten the colour of the lip, you should apply an almond cream and leave it on all night.
While applying lipstick, apply a dark brown colour on the lighter-coloured lip. Then apply the lipstick of your choice on both lips. This will help make your lipstick even-coloured on both lips.
[Read: Ways to look beautiful without using any cosmetics]
A lip balm is also good for keeping the lips in good condition. Only when the lips are in good condition, will make-up look good.
Image: Getty
Read more articles on Skin Care.