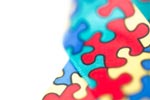 Autism can now be found in babies that are as old as just one month. One of the prominent signs of it is lack of eye contact.
A study published in the scientific journal Nature pointed out that the first signs of ageing can be spotted as early as the first month after the child's birth.
Researchers at the Marcus Autism Center in Atlanta followed about 110 children right from their birth till they were 3 years old, a point when the diagnosis of autism was ascertained. About 59 of the total babies were at high risk for developing autism spectrum disorder just because they had siblings who had autism. About 51 of the babies were considered to be at lower risk because they did not any first, second or third degree relatives who had ASD.

For the study, data was gathered at 2,3,4,5,6,9,12, 15 as well as the 24 month of age. Whenever the data was to be collected, the children watched videos that showed actresses playing the role of caregivers. The researchers later measured the differences in the way an infant responded to the video and was later diagnosed with autism versus babies that were developing normally.

One of the first signs of autism is the lack of eye contact which was observed in all the babies who were diagnosed with autism later. Lack of eye contact is said to be related to a group of neurodevelopment disorders that lead to a lot of social, behavioural as well as communication changes.


Read more Health News.