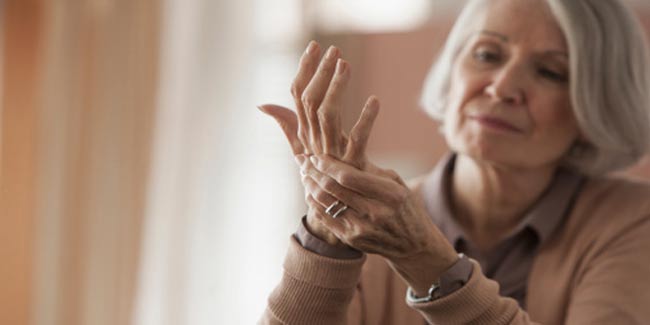 Arthritis can make everyday activities a challenge. That's where these 8 terrific arthritis gadgets come in. They are a solution for almost every situation.
We need our hands to do anything and everything. If you have arthritis and it affects your hands, performing these and other basic tasks can be challenging. Fortunately, certain gadgets can help reduce the pain, improve your range of motion, and, ultimately, enable you to perform more easily the various tasks of daily living.

Arthritis causes joint pain and stiffness which can affect mobility and manual dexterity. Everyday tasks, which are usually considered simple, can become difficult for people with arthritis. Severe arthritis can be very limiting.

As people find daily living activities more challenging, they can experience frustration and a wide array of emotions. It's important to stay positive and find solutions. That's where these terrific arthritis gadgets come in.


Buckle Up with Seat Belt Handle
When you have trouble reaching for your seatbelt in the car, try this clever seat belt handle easily attaches to your existing seat belt strap and extends out six inches to bring the belt within easy reach, making buckling up a breeze. It comes with a bonus feature- glow-in-the-dark version to keep you from fumbling for your belt after the sun goes down.

Go Soft with a Book Pillow
This pyramid-shaped pillow is a book stand that not only holds your book, but keeps the pages from turning while you have your pancakes and coffee!

Your Bracelet Buddy
When you can't roll it over your hand, don't struggle with it. A bracelet fastener holds one end of the bracelet still while you hook up the other. With it, you don't even have to twist your double-jointed wrist to fasten your bracelet.


Pick it up with a Cushion Handle Shopping Bag
Cut down on multiple trips to the car and keep heavy shopping bags from digging into your palms with this ingenious carrying tool that allows you to port up to 50 pounds and multiple bags at once.

Sauce Your Gravy with a Stirrer
If you have cooked anything, you know that normally you can't leave a sauce or gravy alone on a lit stove without continuously stirring it. If your wrists ache when you stir sauces, you just want a cool automatic stirrer. Get a version that is battery powered, has speed settings, and is dishwasher safe.

Use Hand Splints
Using a splint will give your joints the necessary support to prevent pain. Your local occupational therapist can make custom splints for joints causing most pain.


Tea Party with a Kettle Stand
Avoid picking up a heavy kettle to make a cup of tea. A handy kettle stand will carry all the weight of the kettle.

Spread a Plastic Mat
Place a plastic mat on your kitchen counter to help you when cooking or baking. Now you don't have to hold onto a bowl while you stir something. It can also be placed into your kitchen sink while washing dishes. Buy these plastic mats at any plastic warehouse or even the bigger supermarkets.

A diagnosis of arthritis is not the end of the road. How you manage it, has a huge impact on the level of pain you will experience. If you are someone who has arthritis and have been suffering the limitations caused by it, ask your doctor about these aids and where to find them. There is no good in suffering the pain when technology today has made it possible to live with the condition so well.

Image Courtesy: Getty Images

Read more articles on Understand Arthritis.