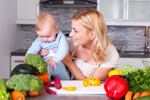 Experts say that feeding your child raw, vegan food can be counter-productive to their body's growth.
Parents often lately try to avoid feeding their child anything but healthy, nutritious vegetables. Such a trend can be seen in the way parents pack their childrens' Tiffin boxes. There is this group of families who raise their children entirely on uncooked fare such as fresh fruits, seeds, vegetables, sprouted grains and nuts. This group is called the Bowlands.
While most of such diets are vegan in nature, some of them do include raw fish or meat and also raw or unpasteurised milk, cheese and yoghurt. A lot of doctors, however, caution against a completely raw diet. Dr. Benjamin Kligler, family practitioner with the Center for Health and Healing in Manhattan, said, "A child's digestive system may not be able "to pull the nutrients out of raw foods as effectively as an adult's.


In the previous year, Dr. TJ Gold, paediatrician in Brooklyn had seen at least 5 families who were feeding their children, including the toddlers in the house, raw diets. Some of these children had severe forms of anaemia and the parents were supplementing were supplementing their diets with vitamin B12.


Director of Pediatric gastroenterology and nutrition at Stony Brook Children's Hospital, Dr Anupama Chawla, said that even though fruits and vegetables are good sources of vitamins as well as fibre, they lack protein and foods that do have protein such as legumes, chickpeas, lentils and raw beans cannot be eaten raw or uncooked.


Dr Chawla added that raw and unpasteurised animal products can spread diseases such as E coli as well as Salmonella. And this is one of the reasons why the Academy of Pediatrics is against the idea of feeding unpasteurised milk to the infants, toddlers as well as pregnant women.


A raw diet may be an extension of the eating obsessions of parents. In fact, it may also be a sign of clinical eating disorder.

Article source: Financial Express
Image source: Getty
Read more Health News.