Are Steroids for Eczema Safe during Pregnancy?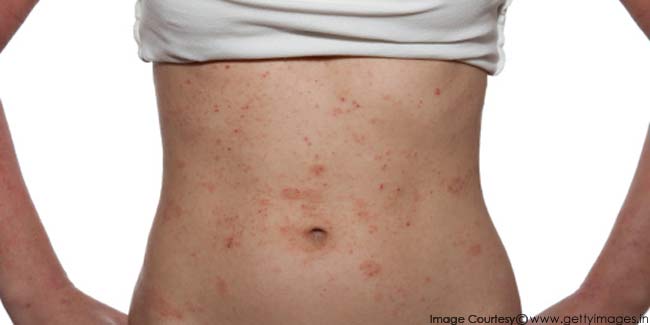 Quick Bites
Women with eczema experience flare-up of its signs during pregnancy.
Moderate to potent topical steroids are used to treat it.
Moderate to severe eczema may need second line treatments.
It is important to see how safe steroids really are.
Whether eczema gets better or worse during pregnancy, the treatment is essentially the same as for anyone else. The golden rules are to protect your skin from drying out and to moisturise as much as possible. This will reduce the itching.


According to US National Library of Medicine, National Institutes of Health, many women with eczema experience flares during pregnancy, and they must take account of the possible effects of some treatments on the foetus.
Safe Options
• Emollients
• Topical steroids (mild, moderate or potent)
• Ultraviolet B

Emollients remain an integral part of eczema management in all patients. Taking tepid baths, using emollients, and avoiding soap can minimise barrier disruption, which may otherwise increase trans- epidermal water loss and aggravate eczema.

Moderate to potent topical steroids combined with moisturisers support the treatment for mild to moderate eczema and with the exception of very potent topical steroids, can continue to be used relatively safely throughout pregnancy.

Bacterial infections are an important cause of complications and should be treated promptly to avoid further deterioration. Staphylococcus aureus colonises more than 90% of eczema lesions.
Relatively Safe (caution)
• Very potent topical steroids (small quantities)
• Oral steroids (in third trimester)
• Ciclosporin*
• (Azathioprine)
• Topical calcineurin inhibitors (small quantities)

Moderate to severe eczema may need second line treatments when not controlled by the above measures.

Systemic steroids are used only rarely by dermatologists for the treatment of eczema, and they may be associated with flare-ups of the disease when stopped.

Oral steroids may be linked to foetal growth restriction, though much of the evidence for this comes from their use in patients with asthma; separating the effects of maternal disease from treatment is difficult.

When eczema remains uncontrolled despite optimisation of topical steroids, narrowband ultraviolet B has been shown to reduce severity of the disease by more than 30% in a randomised, controlled trial and is probably the safest second line treatment during pregnancy.

Topical calcineurin inhibitors, such as tacrolimus and pimecrolimus, are increasingly used as second line agents in primary and secondary care.

The manufacturers advise avoidance of topical calcineurin inhibitors during pregnancy.

Therefore, if eczema remains poorly controlled despite optimal first line treatment and ultraviolet B is ineffective or contraindicated, topical calcineurin inhibitors may be considered after appropriate discussion; however, accepted practice is to restrict use to localised areas.

Patients who continue or start systemic treatment during pregnancy need close monitoring in the hospital setting, by both dermatologists and obstetricians.

If systemic agents are needed, the safest option is likely to be ciclosporin, though this should be used for the shortest duration possible (typically less than six months) to avoid the increasing risk of renal impairment in the mother.
In a double blind randomised crossover trial, ciclosporin improved eczema by 59% over eight weeks, though no specific data exist for pregnant patients. Ciclosporin does cross the placenta, but information from organ transplantation suggests that it is relatively safe. Foetal growth restriction has been reported in this group, but probably relates to underlying maternal disease.

Another important second line treatment is azathioprine. A recent randomised controlled trial in non-pregnant patients showed that this reduced disease severity by approximately 37%.

It readily crosses the placenta, and its use during pregnancy has been associated with miscarriage, preterm delivery, and foetal growth restriction.

The case reports of azathioprine in pregnancy come from its use in pregnant transplant recipients, and current advice to these patients is to continue its use; no reports exist of patients taking azathioprine for eczema during pregnant.

Use of azathioprine in severe eczema must be decided on a case by case basis.
Avoid
• Methotrexate
• Psoralens plus ultraviolet A (PUVA)*

Methotrexate, although likely to be effective in moderate to severe atopic eczema, is contraindicated in pregnancy and breastfeeding mothers. Patients established on ciclosporin or azathioprine before pregnancy will need careful counselling and liaison with obstetricians.

Furthermore, those taking ciclosporin need regular monitoring of full blood count, renal function, and blood pressure, and those taking azathioprine need regular full blood count and liver function tests.

If used appropriately, topical steroids are effective and safe to use during pregnancy. If used inappropriately, however (too strong or for too long), topical steroids may cause side-effects including thinning of the skin. No medication should be taken without consulting with the obstetrician.
Read more articles on Pregnancy Problems.


Written by: Ariba Khaliq
Source: Onlymyhealth editorial team Jul 01, 2013
All possible measures have been taken to ensure accuracy, reliability, timeliness and authenticity of the information; however Onlymyhealth.com does not take any liability for the same. Using any information provided by the website is solely at the viewers' discretion. In case of any medical exigencies/ persistent health issues, we advise you to seek a qualified medical practitioner before putting to use any advice/tips given by our team or any third party in form of answers/comments on the above mentioned website.