Antenatal Care & Birthing:Then and Now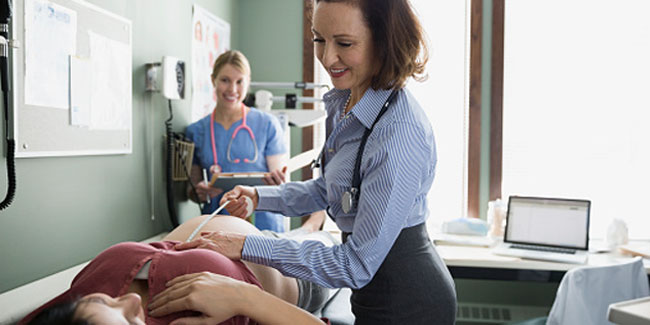 Unlike the traditional methods of antenatal care and delivery, modern methods are seen to be safer for both the baby and the mother. Here is an overview of antenatal care and birthing as it happens today.
Quick Bites
Routine check-ups are very important for would-be-mothers.
A couple of tests are done during pregnancy to ensure safe pregnancy.
A glucose tolerance test may be suggested by the doctor.
Regular ultrasounds are done to check the baby's fitness.
The human race is amazing and is constantly changing, evolving and developing and so is the method of birthing which is an integral part of a woman's life. To-be-mothers often find themselves amused by a cloud of confusion that covers their mind regarding the method of birthing. Should they go for the traditional method of giving birth or book a private ward in the hospital? If you are a pregnant woman about to deliver a baby, let's help you weigh your birthing options.
Then: Traditional method of giving birth at home
Many years ago, around the day and age of our great-great grand parents, the birth of a baby was something that was handled at home with just a traditional birth attendant more popularly known as the Dai taking control of labour and the last few moments until delivery. These dais did not have any formal training or certification. They had learnt skills passed down from the mothers and grandmothers and attended births. They had their traditional methods of handling different situations such as a breech presentation or a uterus which refused to shrink post delivery. They used a simple, unsterilized knife to cut the umbilical cord.
Now: The evolved process of birthing
Reading about traditional method of delivering a baby will make today's women cringe with horror because they cannot possibly imagine giving birth in such circumstances. They cannot imagine birth without a trained and certified obstetrician in the clean and sterile hospital settings. They cannot imagine the high mortality rates that could have existed in these primitive circumstances. All this and more has helped birthing to evolve to what we see today.

Today, if a woman has a positive home pregnancy test in the first month of pregnancy, she immediately makes an appointment to see her obstetrician much to the surprise of her grandmother who wonders why she even needs a check-up before the seventh month of pregnancy.
The first visit to the doctor
This first visit to the doctor does help a woman in a lot of ways.
• First, it confirms the pregnancy. The home tests are reliable, but they may or may not be accurate.
• Secondly, the doctor ensures through an ultrasound that the baby's heart is beating and the placenta has implanted correctly.
• It is also a confirmation of the number of fetuses a woman is carrying.
• Our hectic lifestyle leaves us with little time to have a proper balanced diet which we compensate with fast foods. Prioritizing a proper diet along with multi vitamins will help to boost our reserves. The doctor prescribes multi-vitamins and folic acid, both of which are essential for the developing baby. The folic acid helps in preventing the incidence of birth defects.
• The doctor also recommends routine blood and urine tests which help to assess the general well-being and health status of the woman. Dietary and lifestyle changes are discussed and it is the right time for the nervous, first-time pregnant woman to ask all her questions and clear her doubts.
• All in all it ensures that the pregnancy gets the best possible start.
Scheduling antenatal visits
Antenatal visits are scheduled and the general schedule which is followed worldwide is one visit per month till the seventh month. Subsequently, a visit every fortnight till the pregnancy enters the ninth month and during the last month, a visit every week.

Importance of routine check-ups
The monthly visits are routine check-ups and involve checking of fetal heart tones, weight and blood pressure, uterine size and ensuring that the mother does not have any complaints. These visits are extremely important as they help the doctor to keep in touch with the pregnancy and avoid any complications from developing; helping them by arresting it in the initial stage itself.

Ultrasound scans in the third month
A full ultrasound scan is done in the third month to assess and date the pregnancy. For all practical purposes it is the LMP (Last Menstrual Period) date which is taken into consideration but the date provided by the ultrasound is important too. The scan takes into account the baby's measurements and estimates the gestation age. If the date matched the LMP date then all is well. A margin of 15 days is acceptable at both ends. However, if the date is not in this range then it raises a cause for concern. It could mean that the baby is under developed (IUGR – Intra Uterine Growth Retardation) or big for gestation age which could point a finger towards Gestational Diabetes.
Triple Marker blood test
A woman will also undergo the Triple Marker blood test which tests the levels of pregnancy related hormones which is Alpha Feto Protein, hCG - human chorionic gonadotropin hormone (a hormone produced by the placenta), estriol - a hormone produced by the placenta, inhibin - a hormone produced by the placenta.

An Anamoly scan or a 4D ultrasound
An Anamoly scan or a 4D ultrasound is suggested at approximately 20 weeks of pregnancy. This is a detailed scan which does a complete analysis of the fetus in utero and alerts the obstetrician of any malformations.

A glucose tolerance test
A glucose tolerance test, usually conducted in the 24 to 28 weeks of pregnancy, measures levels of sugar (glucose) in the mother's blood. Abnormal glucose levels may indicate gestational diabetes. A mother who develops gestational diabetes must have her glucose levels monitored and ensure that her diet is modified accordingly. This is essential for the overall health of the baby and the birth outcome. Babies who are born to mothers with gestational diabetes need special attention in the immediate post partum period as their glucose levels are abnormally high. If left unattended it can pose major complications. However due to the ante-natal screening the attending doctors know of the outcomes and are prepared.

For women who are over 35 years of age, more tests are prescribed to ensure the well-being of the fetus. However, these tests are invasive and carry a risk of miscarriage and should be done only if absolutely necessary.

A last ultrasound
As you approach full term, a last ultrasound is done to check the position of the baby, the position of the umbilical cord and the status of the cervix. This helps the obstetrician to plan and be better prepared for the birth.

Routine visit to a dentist is a must
A routine visit to the dentist for cleanup of the gums is advised to every pregnant woman as various researches have shown that gum disease is linked to early labor. Oral hygiene is also important in keeping other routine illnesses at bay which reduce the use of antibiotics that are best avoided during pregnancy.

Other related blood tests
Other blood tests such as HIV, Thalessemia and Thyroid are also essential as they help to avoid future complications.

All these procedures and check-ups ensure a lower mortality rate for the mother and baby and help the family have a more relaxed pregnancy. It aids the family in being more secure in the knowledge that all is progressing well with their precious bundle of joy.
Read more articles on Childbirth (delivery).

Written by: Arpita De
Source: Onlymyhealth editorial team May 03, 2011
All possible measures have been taken to ensure accuracy, reliability, timeliness and authenticity of the information; however Onlymyhealth.com does not take any liability for the same. Using any information provided by the website is solely at the viewers' discretion. In case of any medical exigencies/ persistent health issues, we advise you to seek a qualified medical practitioner before putting to use any advice/tips given by our team or any third party in form of answers/comments on the above mentioned website.
More For You