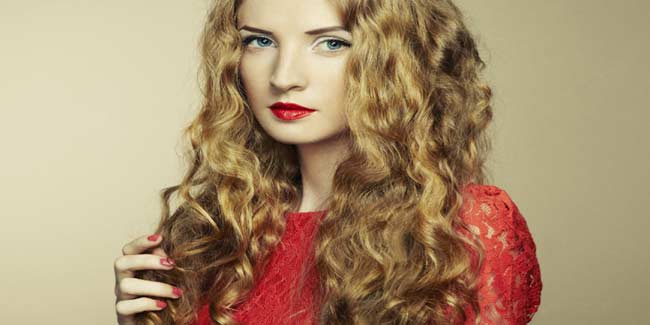 Curly hair is never out of fashion! Curls can add abundant volume to your otherwise limp or less hair. But curling through hair products and chemicals can leave your hair damaged. Your longing for perfectly bouncy naturally curled hair is not unreasonable.


If you'd like to curl your hair but don't want to get into store-bought plastic rollers, metal pins and clips, maybe you'll try the natural ways. The cost is nil and they won't damage hair as do curlers of harder materials.

Get those dreamy-mermaid like curled hair with simple techniques which are as easy as going to sleep.

Sock Bun
All you need is a sock.
Cut the tip off, pull your hair through, and slowly roll the sock out over itself, tucking the hair with it.
It'll probably be messy, but the resulting bun will turn your sad, boring hair into magic overnight!
Headband Technique
Slip a stretchy headband over your crown, hippie-style.
Take a medium section of hair from the front and tuck it through the headband. It should be kept a little bit loose.
Using the same section of hair, and adding a bit more to it, keep tucking until you reach the back of the headband. Repeat on the other side.
Go to sleep — when you wake up and take the band out, your hair will be beautiful and wavy!
The Beard
Separate your hair into two sections, and twist each.
Pull those two twisted curls in front and, keeping them as two distinct curls, use a hair band to secure them. Keep twisting the ends, and loosely tie the two curls together at the bottom.
It should look like you're wearing a beard — although, to be fair, I'm pretty sure this would work just as well if it was behind your neck. Sleep on it, and then unravel in the morning!
Tying Hair Up
You need to firstly start off with a shampoo, and have the scalp free from dust and oil
Do not use any sort of leave on conditioner if your hair is all soft, but if it isn't then do use a conditioner but use one that rinses off.
Do not comb after rinsing. Just towel dry!
Next while hair is all wet, make a knotted bun, by taking 2 inch tufts of hairs and then rolling them into a messy bun which is tight. It definitely has to be quite tight.
Tie it up and keep it like that for at least 8 hours.
Open the bun and spread the layers of hair with your finger.
Rolling Them Over
Follow the same procedure of shampooing, and towel drying.
Next take hair Velcro rollers and roll up your hairs.
Do not comb before rolling hairs.
Tie it up with bobby pins in such a way that you are also able to sleep with them on. You do not want to get pinched and pricked on the scalp when you sleep, so take care.
Keep these on for at least 10 hours and then open up to get that natural curly hair.
Braiding Up
If you want small tight curls, take small sections of hair and make some multiple braids on your wet hair.
Keep overnight. Unbraid to get rock style spiral curls.
It's these same braids that work awesome if you want big round curls too.
All you need to do is do some three to four loose braids on your hair.
This way you can get lovely looking red carpet casual curls on hair.
High Bun Method
Pull all your hair up to the crown.
Twist the hair and wrap it and tie it in a bun at the crown.
Secure with elastic or pins.
Keep for quite a few hours or overnight.
Open the bun to get lovely loose waves on your hair.
Set with spray.
The Twister
You also can make few sections into your wet hair and twist them tight and secure them below on the whole with a rubber band.
Leave it over night or for few hours and then undo it.
This method also will help you secure super curls. It however depends on you, whether you would like deep or soft curls.
All you can do is run your fingers through it and leave it loose.

Curling your hair yourself with these natural ways can get messy, but it is your safest option when you don't want to damage your hair with all sorts of styling products. Try taking help from your sister or friend while trying these tricks to get those perfectly curled locks.
Read more articles on Hairstyles.