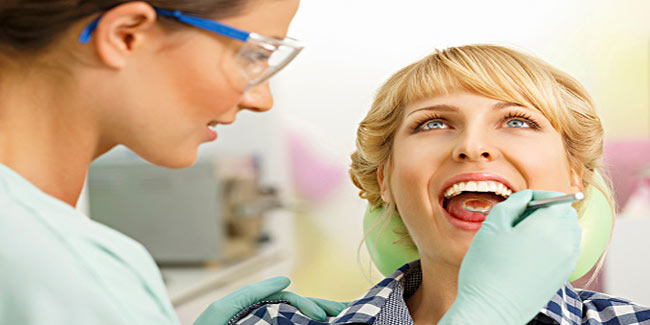 Oral health is one of the important factors to defining quality of life. Here are some reasons for you to visit your dentist regularly.
You may have heard it endless times that visiting the dentist every six months is a requisite for good oral health. If you don't, diseases and disorders can not only damage the teeth but can also disturb both your self-esteem and well-being.
Oral health is one of the important factors for defining way of life. Here are some reasons for you to visit your dentist regularly.
Keep Cavities Away

One of the most common oral problems is the buildup of a whitish film on your teeth known as plaque. It is also the leading cause of tooth decay. Tooth decay eats away tooth enamel and, leads to cavities when left unattended. You can keep off plaque by brushing, flossing and dental cleanings.
Prevent Tooth Loss

With the buildup of plaque increases the risk of gum diseases. It remains to be one of the contributing reasons for tooth loss in adults. With the advancement of gum disease, plaque moves further down the tooth and affects the supporting bone in your jaw, and can sometimes cause teeth to fall out. Fortunately, the risk of tooth loss can be greatly reduced through regular dental cleanings and by practicing good oral hygiene.
Bright Smile

Your smile is your biggest asset! It will be taken away from you if you don't visit the dentist on a regular basis. The foods we eat and the beverages we drink stain teeth. Stained teeth make you hesitant to smile. For a whiter and brighter smile, make regular visits to your dentist.
Odour-free Mouth

One of the ways you can stay away from bad breath is by practicing good oral hygiene. You may have bad breath even after you brush and floss regularly. Get a cleaning done on a regular basis to keep your mouth odour-free.
Health Boost

There is considerable scientific evidence to link oral and overall health. It is known that regular dental cleanings may lower your risk of developing some diseases such as heart disease and stroke. Moreover, many medical conditions can be detected in their early stages during a routine oral exam.
Money Saver

It might cost you a little to get your dental checkups done now. But, you can get the most value from regular dental visits. Spending a little now may be able to save money in the long run as you can protect your oral health and potentially avoid more extensive procedures for medical conditions.
(Image:Getty)
Read more articles on Dental Health.