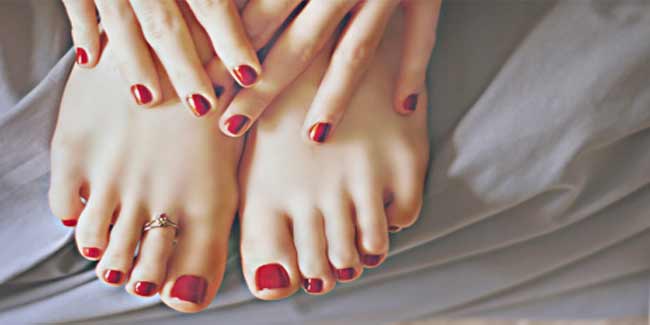 No matter how great a mani and pedi might feel, you don't feel the same when it starts to chip, and that too sooner than you had expected. Here are 5 great tips to make your mani and pedi last longer.
When you just have a few minutes to relax but can't help thinking about giving yourself a relaxing spa massage, all you need to do is get a mani, pedi done. But your joy ends with the day when you find your fresh coat of paint chipping. You always knew it wouldn't last forever, but your mani and pedi doesn't have to disappear faster than Sherlyn Chopra's clothes.

Don't fret, the staying power of your nail paint and your money can be saved with what you do before, after and during your manicure and pedicure session. Follow these 5 ways to make your mani and pedi last longer and look like you just got out of the salon.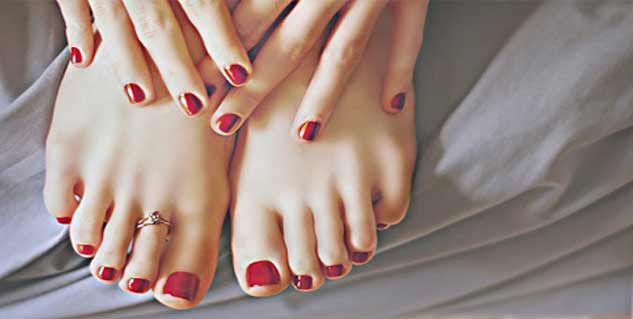 Scrub your nails
You have used this ultimate secret weapon to exfoliate your lips, brush those unruly brows, and smoothen down the baby hair into a high ponytail. Yes, a toothbrush. Now, add another advantage of it to your who-knew-you-could-do-that list i.e. making your fingernails pearly white. An old toothbrush and whitening toothpaste can help you remove dirt and grime from your toes and nails. Just brush them off for a refreshing feeling that whitens and brightens.

After rinsing, moisturise your toes and nails and then swipe them clean with vodka. Yes, you heard that right. It will help you remove any oils that may prevent your nail paint from sticking to the nail. To keep your cuticles moisturized and the polish in place, switch from cuticle oil to water-based balm.
Bypass the bath
You may not believe it but that relaxing hand soak that most nail salons offer during your mani, pedi sessions can actually shorten the life of your polish. Your nails absorb water during this soak and thus, the natural shape expands. Your nails are then polished. Later, when the water evaporates and the nail contracts to its original shape, the polish chips and cracks. We advise skipping the soak however soothing it may feel.
Monitor the heat
Your salon might be modern enough to use ultraviolet lamps to help your nails dry faster, but the equipment causes your polish to come off sooner too. Experts believe that you should give your polish 12 hours to completely dry and harden and avoid any kind of heat on your nails during this time. You could air dry your nails to avoid leaving the salon with wet nails. For the next 12 hours, use only cold water on them. Don't even blow your nails with your breath because it is warm.
Establish the basecoat
Of course a good topcoat is key to seal your polish, but one thing that we usually overlook is that the first coat is an important as the last one. Chemically, a base coat adheres to the nail better than a nail lacquer, providing a base to which the nail polish attaches itself. A strong basecoat smoothens the nail surface, allowing polish to glide on evenly and last longer.

A basecoat also prevents nails from staining that comes from dark polishes in the shades of red or black. So, use a basecoat with ingredients such as vitamin E to strengthen nails, and prevent breakage and peeling.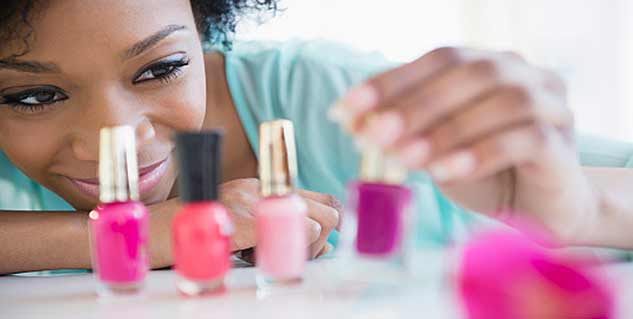 Oil before you toil
Doing the dishes and cleaning the bathroom create havoc for your mani and pedi. Wear rubber gloves while you do such household chores to help your polish stick around longer. Applying a thin coat of petroleum jelly over the entire nail bed of each finger before wearing the gloves can give your polish even more lasting power. It will act as a protective coat against polish chipping and may help prevent chafing near the cuticle. Every time you need to use water around your nails, you should apply petroleum jelly.

Also, remember to use alcohol-free hand-care products because alcohol affects your beautifully-done mani and pedi.


Image Source: Getty

Read more articles on Hand Care.