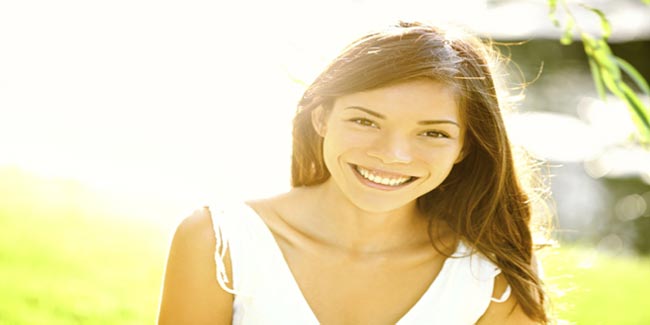 Shedding the makeup could be difficult for a woman; it is a strange idea to shun the foundation and the glitters. But have you unveiled yourself the natural way?


The world seems to be a tad bit interested in everything superficial, so much so that personal appearance is also complimented by the usage of makeup. But, going natural means to find your real self, to unveil the designs that tend to beautify you and stand pure. How can you be a natural beauty? Here are five ways for you to be so.

Feel Beautiful
Every human being is born beautiful, the word ugly is derogatory and discriminatory, and the first thing that you must do is to feel beautiful. Beauty is in your smile, the way you feel inside you, no makeup can ever be better than your inner self. If you consider yourself beautiful and learn to accept your true self, then there is nothing that can take that away from you.

Skin Care
It is very important that you to learn to take care of your skin the natural way. Washing, exfoliating and cleaning up your skin of all the dust and dirt is a priority if you want to skip the horrible makeup. Use a mild face wash to wash your face off the dust and dirt, use natural products like shea butter for even skin tone, rosemary oil for acne and tea tree oil for skin inflammation. You should also include nutritious foods in your diet like more vegetables and fruits and get plenty of vitamins D and C. Do not exfoliate, but just rinse your face every morning with cool water and a non-alcoholic cleanser.

Hair Care
If you want pretty and healthy hair then taking care of it is very important, and this entails the usual, i.e., oiling, shampooing, conditioning. Try and opt for those hair products that are ammonia fee and ask your stylist to use ammonia free products for healthier hair. You might be under the impression that your hair is not all that good, but yet oiling, shampooing and conditioning could be of massive help for you. You must also wash your hair regularly so that it remains clean and does not become greasy and smelly.

Teeth Care
Now when you give out a beautiful smile, won't it be just great to have your teeth all white and shining? It is absolutely essential for you to take care of those pearly whites and this is why you must brush twice a day, and then use a mouth wash. What most people forget to do is to clean their tongue and you should be able to do this, if you do not have a tongue cleaner then use your tooth brush for the purpose. You must also floss your teeth at night before going to bed as this helps to clean all the small corners that are usually unreachable by your toothbrush. Also, if you wish to keep your teeth white then you must drink strong acidic drinks such as coffee and soda; this will help prevent corrosion of the enamel.

Exercise Regularly
You should try and stay away from being obese, being body conscious is good. This is primarily because if you want to love your body then you must treat it well, worship your body, and respect it. You do not really have to go to a gym or join a health club, you can simply do exercises that you love to do. Therefore, you could walk, swim, jog, sprint, play your favourite sport or even dance to keep your body fit and healthy. You will realise that you are more confident about yourself and it will make you happier.

Diet
Try and eat healthy foods like fruits, vegetables, lean protein and plenty of water too. You should divide your weight by half and that is the number of litres of water you are supposed to drink. If you want to snack then eat a fruit or some nuts, oats and the likes, but avoid oily foods by all means. You could have your favourites occasionally but do so in small portions.


Groom your Eyebrows
This is a good way to keep your look neat and tidy; you should groom your eye brows. Trimming, waxing and making sure to keep your eyebrows in shape is very important; this will enhance your face to a great degree and will make you look naturally good.


Sleep Well
Never forget to sleep well at night because getting a good night's sleep is must, you should try to sleep eight to nine hours every night. Also try to sleep and wake up at the same time every day. Soon you will find out that you are very confident and naturally beautiful.

Read more articles on Skin Care