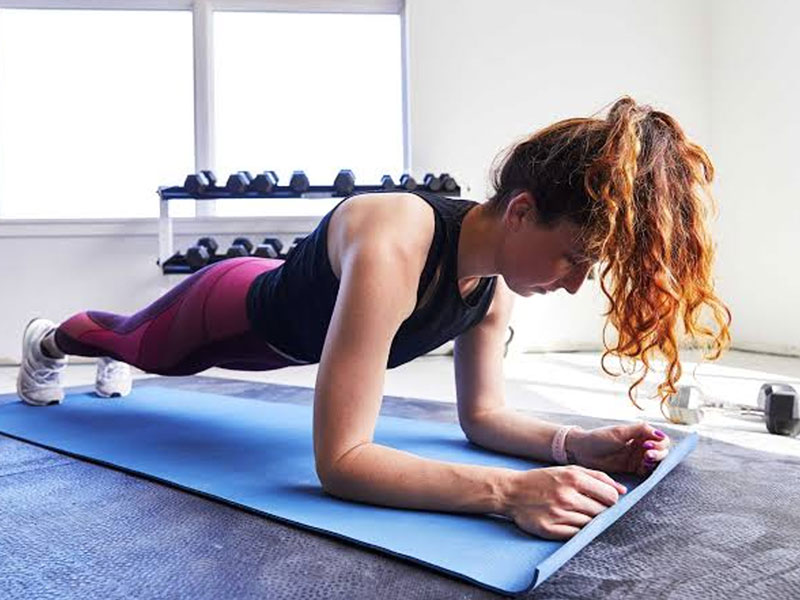 Quarantine due to the COVID-19 pandemic is being a hard time for everyone. The state lockdown has made people sit at home to avoid the widespread of Coronavirus. From midnight munchies to disturbed sleeping pattern, there are many unhealthy habits that people have adapted since last year. The second wave of COVID-19 is taking a toll on every individual, both physically and mentally. During such challenging times, it is important to take proper care of your health.
Therefore, a healthy diet and exercise should be a priority for everyone. The unhealthy lifestyle habits can even lead to obesity just sitting at home. Instead, you can use this extra time to tone your body. Is weight gain causing issues when you cannot even hit the gym? The most famous sign of a fit body is showing off those abs. Losing fat and building muscles can help in getting those perfect set of abs. Well, without any further ado, here are some home abs workouts that you can do daily at home.
Best abs workout in home Quarantine
There is a requirement of really low fat percentage in the abdominal area for the abs to be visible. Therefore, a carefully designed diet is a vital aspect to get amazing sic pack abs. And not just abs, some useful abdomen focused exercises can also help in toning your body and losing weight. A healthy diet routine paired up with an exercise schedule can help you in achieving the desired goal or look. Most importantly, one needs to have ample amount of time, motivation and dedication towards the goal. So, here are 5 best abs workout to do when quarantined:
1. Plank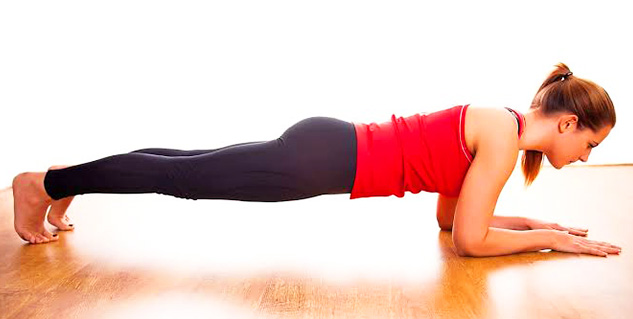 Plank is one of the most effective abs workouts you can do at your home everyday. Basically, in the plank exercise, you have to lie on your stomach. This exercise can help in making your core strength stronger and in building those perfect abs. Firstly, you have to put pressure on your palms and hold your body, pelvis and knees with its support. Stay on the floor for atleast a minute and remember to keep your feet and knees absolutely straight. Your pelvic area and legs have to be straight as a line. This will also bring positivity and relaxation in your mind. You should not go too low while doing planks as it can cause lower back pain.
2. Hollow rock
One needs a lot of dedication to do this workout at home. In hollow rock, you have to lie on your back with your legs in front and arms over the head. Lift your shoulders off from the ground until the lower part of your shoulder touches the floor. Your feet should not be on the ground, and away for atleast 6-8 inches. Go back and forth with your pelvis and do as many reps as you can while maintaining the form. This is one of the best exercises for building abs. It is also helpful in building muscle strength.
Also read: Dos and don'ts for six pack abs every fitness freak should know
3. Abdominal crunches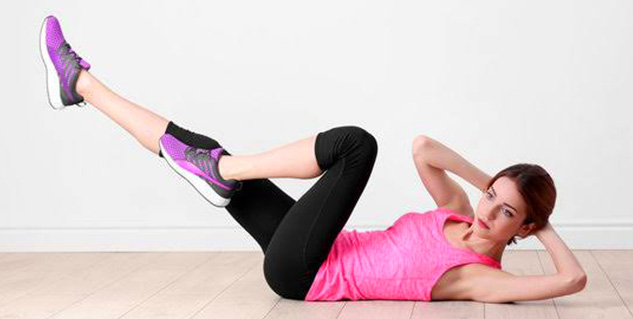 You must have heard about this popular abs workout. Abdominal crunches directly target your abdominal muscles. Take your yoga mat and lie down on your back. Then, bend your knees and keep both the hands behind your ears. Now, fold both your legs and gradually pull and contract your abdominals, bringing your shoulder a little above the ground. Hold this position for a few seconds before lowering back down. Make sure to exhale when you come up and inhale when you go back to your actual position. You have to do atleast 3 sets of 10 reps each of abdominal crunches for desired results.
Also read: Want To Get Those Perfect Six Pack Abs? Here's A Diet That Can Help You Achieve Your Fitness Goal
4. Mountain climbers
Mountain climbers, which is also known as running planks is also one of the easiest and best workouts that directly has a huge impact on your arms, shoulders, quads, and core muscles. It is an amazing form of cardio that you can do at home and it is not possible to go for a run or to the gym. Use your yoga mat and get into a plank position. Keep a good check on your position as the form is important when you are working out at home. Now, pull your right knee into your chest as far as you can. And do the same with your other leg. Make sure that your hips are down and do the process as fast as you can. Also, keep inhaling and exhaling properly for an effective workout session.
5. Seated rotation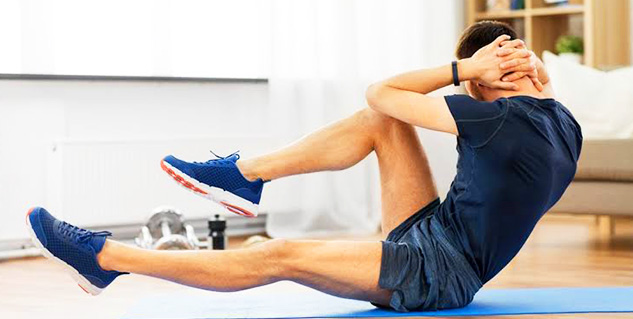 Seated rotation is the easiest form of exercise for getting abs. There is no specific workout equipment required, but all you need is a yoga mat and a load of dedication to make this work. You can also use a water filled water bottle to increase the hardwork with some extra added weight while doing the twisting. You have to sit on the ground with your legs spread out in front of you. Now, lift both of your legs a little upwards and stay in that position for a few seconds. Slowly and gradually move your hands upwards at a 45 degrees angle and in a twisted motion, touch the floor of both sides of your hip alternatively. Ensure that the movement is not large and comes from the ribs rotating.
Also read: Morning Exercise Routine: 5 Exercises For Abs And Obliques For A Power-Packed Day Ahead
So, these were the best abs workout that you can do at home, while quarantined. There are safety measures that you need to keep in mind while doing home workouts. It is essential to keep yourself hydrated, make sure to inhale and exhale properly while working out, maintain the correct posture to avoid muscle and joint pains. And, do not forget to keep a check your daily diet routine to achieve the best results.
Read more articles on Exercise & fitness