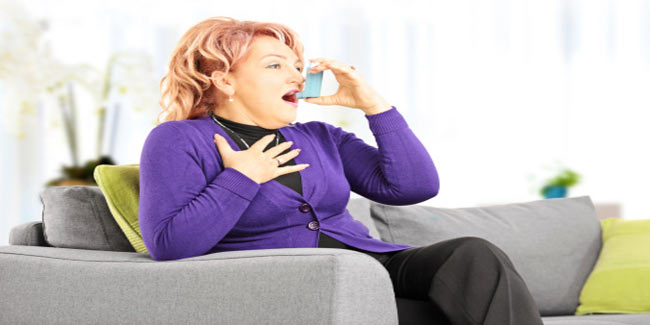 Breathlessness, also referred to as dyspnoea, is a sensation of uncomfortable or difficult breathing. Breathlessness causes people to feel puffed, short of breath or winded. Their chest may feel tight and breathing can become extremely difficult.
Anyone can experience breathlessness with a bout of intense exercise or when exerting themselves to an unusual extent. But when you suffer from breathlessness often, it is important to seek medical attention.
What causes breathlessness?



There could be many causes of breathlessness. The most common causes of dyspnoea are as follows:

Blocked/narrowed airways – If you experience sudden breathlessness too often, it could be a sigh of an asthma attack. It occurs when your airways have narrowed and it becomes difficult to move air in and out of your airways.

A heart problem – Breathlessness is one of the symptoms of a heart attack; not all heart attacks have obvious symptoms such as chest pain and anxiety. Other heart-related illnesses such as atrial fibrillation and supraventricular tachycardia can also cause breathlessness.

A panic attack – Anxiety or a panic episode can cause you to take rapid or deep breaths, which is termed as hyperventilating.

Partial collapse of the lung – A small tear in the lung surface can allow air to become trapped in the space around your lungs, causing a partial collapse of the lung. As a result, there could be breathlessness.

Anaemia – A low level of oxygen in the blood due to a lack of red blood cells or lack of haemoglobin can cause breathing problems.
Pulmonary embolism – This happens due to a blood clot in the vein in the thigh. A similar health condition, known as deep vein thrombosis (DVT) in which airways get blocked because of blood clot, fat cell, tumor cell, or air can cause breathing problems.
Pneumonia (lung inflammation) – Lung inflammation is a result of an infection, for which you will need to take antibiotics.

Obesity – Obesity decreases the capacity of the respiratory muscle function. If you are severely obese, there could be breathing troubles.

Cancer – Cancer, particularly when it has spread to the lungs, can put pressure on the airways. As a result, it becomes difficult for air to pass through and may lead to breathlessness.

Medical treatments – Surgery of the lung or part of the lung can affect your breathing ability. Inflammation of lungs can occur with drugs and cause breathing problems.
Breathing difficulty that is mild is not always a cause for concern but if it comes often and is getting worse with time, it is a warning sign of a serious problem. If the feeling of breathlessness has frequent, see a doctor immediately.
Read more articles on Lung Diseases.