Cupping therapy is a form of alternative method that involves placing of glass, bamboo or clay cups on the skin to create suction. The underlying tissue is sucked into the cups to help mobilize blood flow and promote healing of a wide range of medical ailments, improving circulation, and providing relief from pain. The use of cupping therapy dates back to 1550 B.C in traditional Chinese medicine.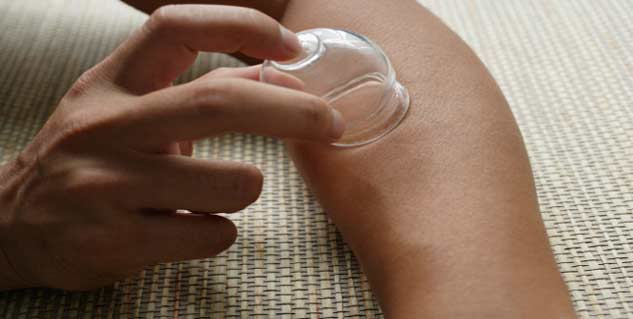 According to a study published in the journal of PloS ONE, cupping therapy has more benefits than a placebo effect and it can be very effective in treating conditions such as herpes zoster, acne, facial paralysis and cervical spondylosis when combined with acupuncture or medications.
Types of cupping
There are two common types of cupping therapies; dry cupping which involves suction only and wet cupping which involves controlled medicinal bleeding along with suction.
How it is performed
During cupping therapy, a flammable substance such as alcohol, herb or paper is kept inside the cup and is then set on fire. The cup is placed upside down on the skin as soon as the fire goes out. A vacuum is created inside the cup when the air cools down, causing the skin to rise and redden as blood vessels expand. The cup is then left still for 5-10 minutes.


However, some modern alternative techniques for cupping make use of a rubber pump in order to create vacuum inside the cup. Medical-grade silicone cups can also be used as they are flexible and can be moved on the skin, thus easily producing a massage-like effect. However, during wet therapy, a mild suction is created using a cup that is left in place for about 3 minutes. The cup is then replaced with a small scalpel to make superficial skin incisions. A second suction is then performed to draw out a small quantity of blood.


Once the procedure is over, use an antibiotic ointment and cover the site with bandage to prevent infection. The skin's appearance will become normal within 10 days. Wet cupping is believed to be commonly used to remove harmful substances and toxins from the body to promote healing.
Benefits of cupping therapy
Cupping therapy can be effective in treating several conditions including:
Blood disorders
Arthritis
Fibromyalgia
Infertility and gynaecological disorders,
High blood pressure
Anxiety and depression
Varicose veins
Migraines
Asthma

It is also believed that cupping therapy can help reduce pain and inflammation throughout the body promote mental and physical relaxation and well-being.
Image source : Getty
Read more articles on Alternative Therapies