Eating salad every day offers numerous health benefits. It is one of the simplest and healthiest food habits that anyone can adapt. Salads are easy to make and they bring us a few steps closer to our recommended daily serving of fruit and vegetables. Simply add some of your favourite fat-free or reduced fat dressing and experience some of the following health benefits: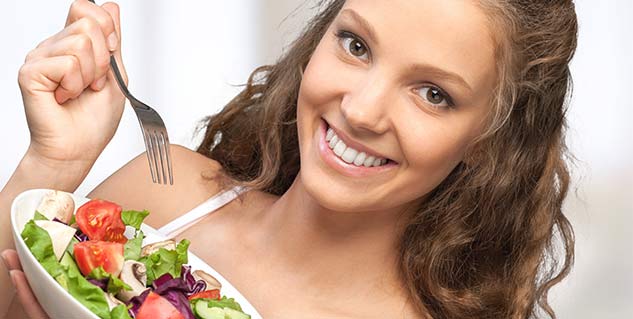 Increase fibre intake
One health benefit of consuming salad is an increase in fibre intake. Salads provide the body with a lot of fibre, which in turn means lower cholesterol and less constipation.
Lose weight
Furthermore, when you eat these green wonders, you feel fuller, eat less and lose weight. Since salads are very filling, eating one prior to your main course will reduce the number of calories you end up consuming. By the time you get to the main course you will feel full and satisfied. This in turn will result in fewer calorie intake and loss of weight.
Nutrients for overall health
We don't get the recommended serving of fruit and vegetables. And eating a salad daily can bring you a few steps closer to that goal. Vegetables and fruit are rich with many nutrients which contribute to our overall health.
Source of antioxidants
Furthermore, green veggies provide our bodies with high levels of antioxidants which lower our chances of developing many illnesses, such as cancer. So eating five servings of vegetables per day is not just a random saying that some person cooked up in his head, it is a recommendation towards a healthy lifestyle.
Images: Shutterstock