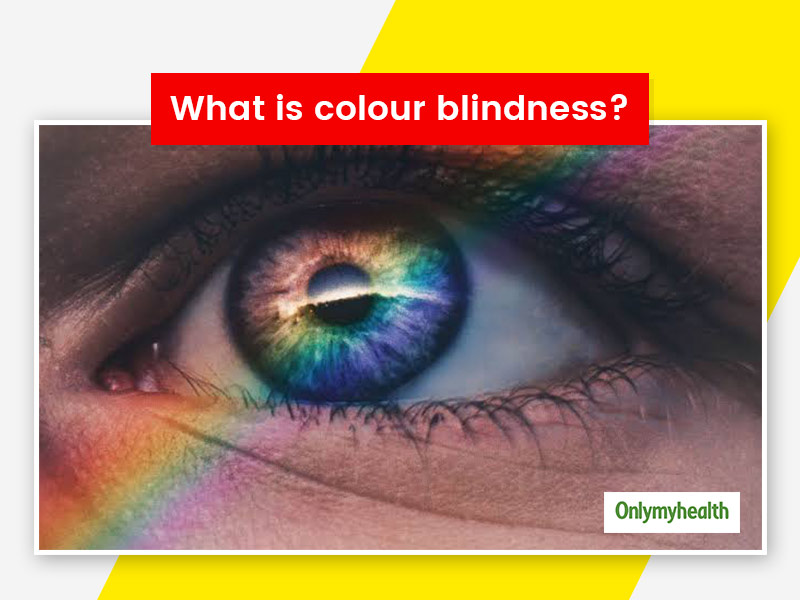 Colour blindness is a genetic condition that causes difficulty in colour differentiation. Here's what an expert had to say about it.
Do you face trouble in seeing the colours like other people do? You might be colour blind if that happens a lot of times. Colour blindness is mostly inherited and makes a person lose the ability to differentiate between some colours. This condition does not make you see gray shades, but the patients are not able to differentiate between some colours, mainly red, green and blue. Moreover, sometimes, there are people who are unaware of this condition and don't know that they have colour deficiency. For example, they know that orange fruit is orange in colour, so they just think that the colour is orange, but aren't actually seeing it. If you are colour blind, then you might even experience blurry vision. Ophthalmologists have a set of tests for a proper colour blindness diagnosis. To know more about this condition, Onlymyhealth editorial team talked to Dr. Sameer Kaushal, Head Opthomology, Artemis Hospitals, Gurgaon, about the symptoms, causes, diagnosis and treatment of colour blindness.
Colour blindness causes
Colour blindness is mostly a congenital condition, which means people may have it right from when they were born. And, this happens when there is a partial and complete absence of cones in the retina. Cones help you to tell the difference between the colours red, green, and blue. As per Dr. Sameer, the one major cause of colour deficiency is:
1. Genetic factor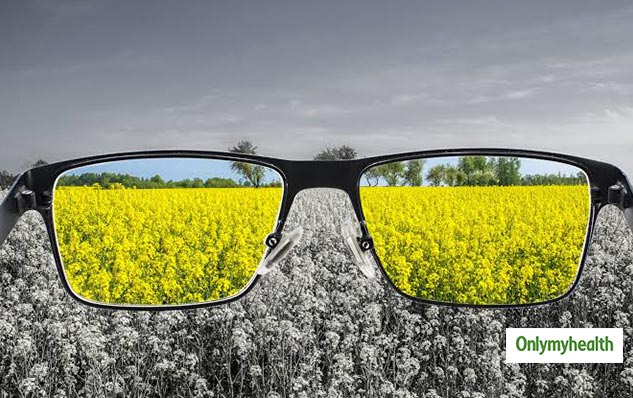 Usually, majority is genetic colour blindness which is present by birth. It can only be detected by tests like routine tests. The child never gets to know that he has colour blindness. Therefore, genetic factor is the main cause behind colour blindness.
On the other hand, the rare acquired causes are:
1. Optic nerve diseases
Sometimes, a person might be suffering from an optic nerve disease, which may be the reason behind colour deficiency. Damage to the retina or optic nerve can trigger blurring of vision as well as colour deficiency. Certain drugs can also put you at a higher risk of colour blindness.
Also read: Diagnosing Colour Blindness: Take These 5 Tests To Find Out Whether You Are Colour Blind
2. Other diseases
Color vision defects from other diseases is extremely rare as compared to congenital colour blindness. Moreover, colour blindness causes by a disease may even have a negative impact on both the eyes. This condition may even get worse with time. The disorders that are often associated with colour blindness are diabetes, Alzheimer's disease, Parkinson's disease and leukemia.
Colour blindness symptoms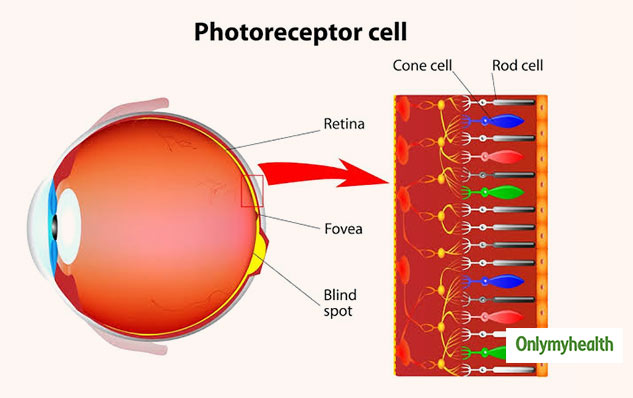 The signs of color blindness differ from being mild to severe. In fact, there are people who are not even aware of mild symptoms of their colour deficiency. It becomes the duty of the parents to see if their child is going through any problem in understanding colours. The colour confusion commonly happens with red and green, or blue and yellow. According to Dr. Sameer, here are the main colour blindness symptoms:
Blurring of vision
Inability to identify colours
Lazy eye
Light sensitivity
Trouble in seeing the brightness of colours
Colour blindness diagnosis
If you are having any signs of colour blindness, then you might also face difficulty in seeing some patterns or dots. When you visit an eye doctor, you might have to get a colour deficiency test for clear diagnosis. This might start with a simple eye exam, in which you will be shown some pictures made up of coloured dots, numbers or shapes in different colours. This will help in observing your identification abilities. According to Dr. Kaushal, here are the tests that an opthalmologist might get done for colour blindness diagnosis:
1. Ishihara test
The most common and easiest test is called the Ishihara test in which multiple colored plates are shown. During the colours, the medical professional creates a pattern. If the patient is not able to different the colours and identify the pattern, numbers or letters, then he/she is suffering from colour blindness.
Also read: Colours Matter: How To Tell If Your Child Is Colour Blind, Ophthalmologist Answers
2. Lantern test
Farnsworth lantern test is extremely different from the Ishihara test. This is mostly used by the U.S. military or sailors to see if recruits have a mild or severe form of colour blindness. You will be allowed to serve in the armed forces if your condition is mild. Lantern test screens majorly for red-green deficiencies, which are the most common one.
3. Farnsworth hues test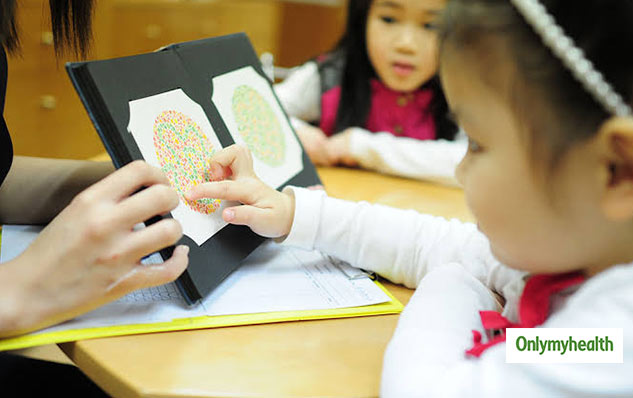 In Farnsworth hues test, there is a usage of blocks of different shades but same colours. In this diagnosis, the person has to match and line them up particularly. The test tells if you are being able to observe any light colour changes. This test is mostly down by companies who hires workers to work in a field that requires seeing colours.
4. Anomaloscope
Another test that is used for colour blindness diagnosis is a test using an anomaloscope. In this test, you have to look through an eyepiece and see a circle. The top half and bottom half consists of yellow and red and green lights respectively. You have to keep revolving the knobs until and unless all the colours are the same and at a similar level of brightness. Doctors usually use this test to check red and green colour deficiency.
Colour blindness treatment
Dr. Sameer said, "If the cause is genetic, then there is no treatment for colour blindness. However, genetic counselling should be done to know the kind of colour blindness and whether it can be passed on to the next generation or not. If it is a significant colour blindness, like the red green, the most common one, then driving becomes an issue. In most circumstances, the person is not given a driving license, as public safety concern comes in. Otherwise, it is not very harmful in day to day lives, but there are some restrictions in jobs." So, there is no known cure for colour blindness. There is an availability of contact lenses and glasses that have coloured filters to eliminate the deficiency, if someone requires it. Most people don't get much bothered to try these lenses as the vision is absolutely normal. To cope up with colour blindness, one can try to memorize coloured things and use different phone applications to identify various colours.
Also read: Eye Problems That One Can Experience In Summer And Monsoon With Eye Care Tips From This Senior Ophthalmologist
Things to know before going to an eye doctor
If you have colour blindness symptoms, there are some things that you should know before visiting an opthalmologist. Your appointment will be more detailed if you have some questions and answers ready with you. Here are some things to know before going to an eye doctor:
When did you start having colour blindness symptoms?
How has colour deficiency taken a toll on your life?
Does it affect single or both eyes?
Are there any specific contact lenses or glasses for your type of colour blindness?
Do you have any other medical conditions along with colour deficiency?
Is colour blindness having an effect on your profession?
Are you on any drugs, medications or supplements?
So, these were the symptoms, causes, diagnosis and treatment for colour blindness by Dr. Sameer Kaushal. If you are experiencing any of the above mentioned symptoms, then it is important to visit an opthalmologist. Colour deficiency does not lead to any serious complications and a lot of patients just leave it as it is, as they are easily able to live their normal life.
Read more articles on Other diseases