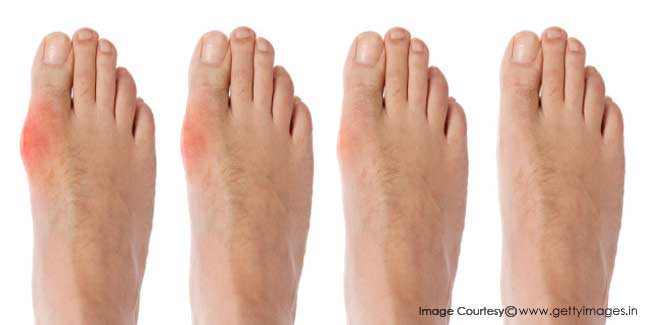 Diabetic patients are prone for foot infections due to three main causes: Uncontrolled Diabetes, Peripheral neuropathy and Peripheral vasculopathy. Read on.
In many cases serious problems of diabetic foot can be prevented by an understanding of what can happen to feet and how to take care of them when one is afflicted with diabetes.
Types of Diabetic Foot
Diabetics are more prone to infection. Neuropathy (damaged nerves) or peripheral vascular disease (blocked arteries) of the legs can be developed in diabetics which can lead to foot amputations.
Often, amputations are a result of infection or foot ulceration, alone or in combination.
Neuropathy and peripheral vascular disease can also cause distressing pain in the lower limbs.
Diabetics, especially with very high blood sugar levels have poor defence against infection. Normal cuts and abrasions to the foot can turn into infection in no time.
So, protecting the feet with proper footwear becomes essential. If there is a foot ulcer, the break in skin would also make infection much more likely to occur.
Foot infection can be categorized into two categories:
Localized foot infection is recognized by redness, heat and swelling confined to an area. Note the foot as a whole is not swollen. Oral antibiotics for a few days can usually eliminate the infection.
Generalized foot infection notes the whole foot is red and swollen. Oral antibiotics in higher dosage can be tried but if there is no rapid response (within 24 hours), intravenous antibiotics and sometimes surgical intervention are urgently required because there is likely to be infected tissue deep inside the foot.
It is essential to distinguish between localized versus generalized foot infection because they require different intensity of treatment.
Results of neuropathy can be of two kinds and are contradictory in nature:
• Loss of ability to feel pain and other sensation which leads to neuropathic ulceration.
• Symptoms of pain, burning, pins and needles or numbness which lead to discomfort
Most patients who have neuropathy have one of these problems but some can be affected by both.
Symptoms of Diabetic Foot
There is a wide variety of symptoms that people describe. More often the feet are affected, but the legs and sometimes hands can be involved as well.
Burning, feeling like the feet are on fire
Freezing, like the feet are on ice, although they feel warm to touch
Stabbing, like sharp knives
Lancinating, like electric shocks
Charcot's Arthropathy - The swollen foot
Neuropathy also causes charcot's arthropathy in which the bones of feet weakenand fracture without major trauma. The patient is able to walk despite a little pain (a result of neuropathy). As, a result, severe deformities of the foot and intractable ulcer occur, culminating in the need of amputation. Therefore, it it is significant to make the diagnosis early at the acute phase of Charcot's arthropathy because appropriate treatment at this stage can minimise deformities and reduce associated morbidity.
Read more articles on Feet care.