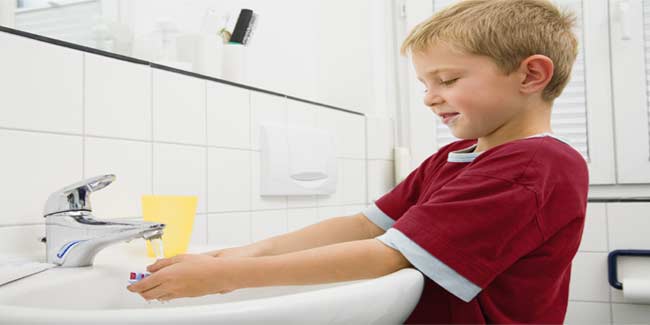 Not washing hands severly impacts on one's health. Imbibing habit of regular hand-washing is necessary as Germs enter the body fastest through dirty hands.
On October 15, 2008, the first-ever Global Hand Washing Day saw more than 120 million children around the world washing their hands with soap in more than 70 countries across five continents.
From Colombia to Bangladesh, Kenya to the Philippines, the United Kingdom to Ethiopia, schools and communities worldwide organized and participated in celebrations and hand washing activities to remind the world that "Clean Hands Save Lives!"
Since its inception in 2008, which was designated as the International Year of Sanitation by the UN General Assembly - Global Hand Washing Day has been reinforcing time and again the call for improved hygiene practices worldwide.
"It may seem as something you may not be able to believe almost instantly, but it's true that the maximum number of germs lie in our hands and it's your hands that can cause more infections than other body parts", says Doctor Akali, a general practitioner in Bangalore.
Hand washing with soap is the most effective and an inexpensive way to prevent diarrhoea and acute respiratory infections, which take lives of millions of children in developing countries every year.
Together, they are responsible for the majority of all child deaths. Yet, despite its lifesaving potential, hand washing with soap is seldom practised and difficult to promote.
"In the good old days not only hands but also the feet and the face used to be washed and cleaned at the entrance of home," says an octogenarian. This was therefore the common practice in rural India.
With the influx of several new diseases spread by bacterial and viral infections which are presently not entirely controllable with antibiotics, the above practice has gained greater importance. Often one also confuses washing hands as relevant only to prior to eating food which isn't true as one could pass on virus/bacteria even by a simple shake of hands, should one be infected.
It is therefore essential that one follows this practice religiously and washes one's hands as often as possible and definitely after every occasion of dealing with material which is prone to be infected.
Teachers at school play a major role in building up good habits for students in their lives. "As a teacher, I feel it is my responsibility to teach children not just what they are required to learn from books but also other things like manners and cleanliness. You would be surprised how fast children pick up things these days," says Zubaida Badsha, a teacher.


Read more articles on Hand Care.