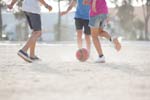 Flu-like symtoms can be prevented by doing at least two and a half years of vigorous exercising like brisk walking, swimming, running, etc. per week.
According to this year's Online Flu Survey run by the London School of Hygiene and Tropical Medicine, if one does at least two and a half hours of vigorous exercise each week, he/she cuts the risk of developing flu. 48,000 people took part in survey.
Researchers found that moderate exercise did not really work to have a protective effect on the participants. Overall, the flu rates in winter this year were seen to have been low. The Flu Survey makes an effort to track as much detail about who does and does not get flu as much as possible.

The survey asks for people to report how many hours of vigorous exercise they do each week ranging from none to five hours. The participants are to log in each week and add how they are feeling and whether they have any symptoms of flu or not.

The researchers of the study said that at least 100 cases of flu per 1000 people could be prevented just by doing vigorous exercise. They added that this year's survey found the lowest reports of flu-like illness in the recent years. Children also seemed to have reduced their risk of flu compared with the last year.
Article source: BBC News
Image source: Getty Images
Read more Health News.