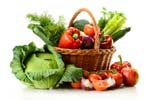 A recent study suggests that a low-carbohydrate vegan diet not only helps you reduce weight but also lowers your risk of heart disease.
Figuring out how to reduce weight is as difficult challenge as losing weight? A latest study suggests a diet can help reduce weight and control cholesterol.


A study conducted at the St. Michael's Hospital suggests that a low-carbohydrate vegan diet (Eco-Atkins diet) not only helps you reduce weight but also lowers your risk of heart disease.

Researchers conducted a-6 month period where 23 obese men and women were presented with menu plans to choose the one that suited them best, with an objective of how to reduce weight and lower heart disease risk. The study required that participants take 60% of their daily caloric intake during the study period. They were given the choice to change meals to eliminate monotony.

At the end of the study, the researchers found that those who were on Eco-Atkins diet had 10% lower cholesterol levels in comparison to their counterparts who were on a high carbon and low fat diets.

The Eco-Atkins diet is a low-carbon diet. Unlike other low-carb diets, it is a vegetable diet that does not promote intake of animal protein which ensures that cholesterol levels are kept in check. 31 percent of the total calories come from proteins, 26 percent from carbohydrates and 43 percent from fats in the Eco-Atkins vegan diet. The source of fats in the diet is vegetable oil (which is also cholesterol free), nuts, soy products and avocado. So, it is the answer to how to reduce weight and keep health complications at bay.

According to the lead author, Dr. David Jenkins, the diet helped not only in weight management but also help them have a healthy heart by lowering their cholesterol levels. He added that we could expect similar results in the real world because study participants selected their own diets and were able to adjust to their needs and preferences.

If you are looking for an answer to how to reduce weight, here is how you can reduce weight. To reduce weight, you must follow a diet that gives you what you need. Stick to it for few weeks, as you cannot reduce weight in a week or two. Moreover, there is another important thing – not to constantly stress about to reduce weight. Just focus on how to reduce weight and what needs to be done.

The study was published in the British Medical Journal.
(Source:National Post)
Read more Health News.