Most people need to do office work these days and sitting at your desk the whole day is bound to create health complications. You would do well to learn some workouts which you can do while sitting. You can keep doing them throughout the day at regular intervals or whenever you feel the need to. Don't overdo the stuff as that can create nuisance in office. That is why they have been termed two-minute workouts.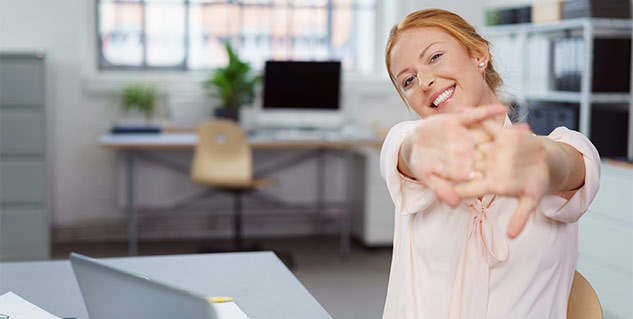 Chair dip
Sit in your armchair and keep each of your hands in the centre of armrests.
Lift your feet a few inches from the ground and keep busy with stomach muscles.
Raise your body off the chair with your arms till they are straight.
Count till one and lower yourself into the chair.
Repeat this exercise for 30 seconds.
This workout can be performed only if your arm chairs are sturdy enough to bear the load of the exercise.
Stretching exercises
These consist of some easy exertions which can be performed anytime.
Hold your hands at the back and interlock your fingers. Try stretching your hands as far back as possible in this position. While doing so straighten your upper back and tuck in your stomach.
Stretch your legs underneath the legs and tighten them for a few seconds. Doing this 5 times will give you a good workout.
Stretch your arms ahead as far as possible and bind a fist quickly. Do this step for 5 times.
Desk pushup
Stand 3 feet away from the desk.
Keep your arms and legs in straight line.
Now, incline against the desk and do push ups.
Lower till your chest reaches the edge of the desk and then push back.
Reverse crunch
Scoot yourself closer to the edge of the seat.
Place your arms on the arm rest.
Put your knees together.
Try to lift them towards your chest, as close as possible.
Hold for a moment and then lower them to the ground gradually.
You should keep your back straight while performing these steps rather than moving back and forth. Repeat these steps a few times.
These two-minute workouts can be the ideal way to avoid the complications of leading a sedentary lifestyle induced by office work.
Image: Shutterstock