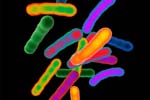 The Lancet report shows a significant amount of fall in the number of tuberculosis cases in China since the last decade.
The Lancet report on cases of tuberculosis in China shows a significant drop in the number of TB cases. It shows a fall from 170 to 59 per 100,000 population, which is half the number of TB risks in the previous years. The World Health Organization is suggesting that other countries borrow the China's approach of community-based disease control programme.
Statistics have it that China is the biggest contributor to the global TB pandemic, which accounts for more than one-tenth of the cases all over the world.

China has been able to reduce the burden based on a 20-year-long analysis of the national survey data. Between the year 1990 and 2000, tuberculosis levels were reduced in places where WHO-recommended directly observed treatment, rapid detection and cure of patients with TB and shirt course programme was adopted. The result being 57 percent reduction in TB prevalence in China since the last decade.

The 2014 World Health Assembly will be looking at eliminating tuberculosis and setting targets that would include 50 percent reduction in the prevalence of the disease between the years 2015 and 2025.
Tuberculosis continues to be a major issue and cause of death in several countries, including Russia, India, and other African countries.

Article source: BBC News
Image source: Getty Images

Read more Health News.