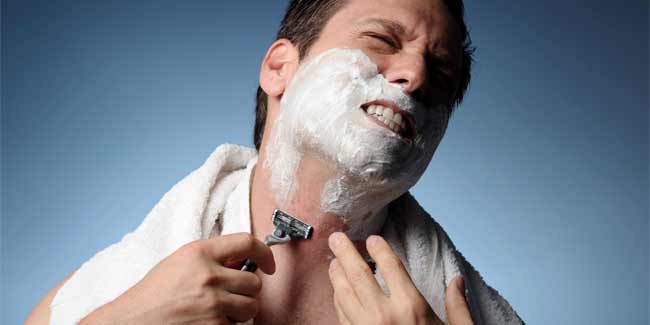 Razor burns are inflamed, itchy red bumps and are common skin irritants caused by shaving. They can be accompanied with stingy burning hot sensation. Razor burns are not only painful but can also look unsightly, more so if it's on a readily exposed part of the body.


Sensitive skin is more susceptible to get these rash-like bumps. Insufficient lubrication of skin, wrong shaving practices, bad shaving equipments and reactionary creams and lotions are some of the reasons for razor burn breakout, which if left untreated can lead to aggravated situation of such burns.

As the saying goes, prevention is better than cure, hence the first step to treat razor burns is to know and understand what might lead to this unpleasant skin condition.

Shave soft hair, exfoliate, shave with light, small strokes in the direction of the hair growth, use the right kind of shaving equipment and pamper your skin with cold water or a moisturizer after the job – these are some small but effective preventive steps to avoid razor burns.

Curing razor burns – medicinal way
• Dermatologists suggest that one should stop shaving for a few days in case of razor burns. Shaving an already inflamed skin can worsen it.
• 1% hydro-cortisone cream can also be used to treat burn, redness and inflammation. If you have a very sensitive skin or have acnes, consult your doctor before using it on face.
• Use medicated antibacterial washes and topical antibiotics.
• Products with glycolic acid and salicylic acid (generally used for acne treatment) can also prove effective in curing razor burns.
• Over-the-counter products: A whole line of razor burn treatment products are on offer by skin care market. For example, A shaving gel which contains rosemary and sage to fight infection and a non-oily formula that moisturizes the skin without clogging it can be helpful. Products which have glycolic acid to remove dead skin particles along with tea tree oil to combat bacteria and Vitamin E for skin hydration are also very effective.
• If razor burn is a frequent problem for you and it gets aggravated into other skin problems, alternate methods of hair removal can be considered as its treatment.
• Laser: Controlled studies have shown positive results for using laser to treat razor burns. Talk to your dermatologist about Yttrium-Aluminum-Garnet laser treatment.
• Electrolysis: It is a part of advanced treatment procedure. It uses a device which destroys the growth center of the hair. The treatment however should be undertaken only under the supervision and prescription of a dermatologist.
• Electric shaver: If the blades of the razor are causing the irritation, then one can turn to electric shaver.
Curing razor burns – natural way
Natural or home remedies are resorted to by a majority of people who suffer razor burns. They are simple, safe and offer good results.

• Aloe-vera: It has a cooling effect and facilitates healing process. Split a natural aloe leaf and rub its fluid on the skin or use lotions with high percentage of aloe to relieve razor burns.
• Aspirin paste: Mix 2 uncoated aspirins with 1 teaspoon of warm water and make a fine paste, then apply to skin for 10-15 minutes. Given its analgesic and anti-inflammatory properties, it has been widely followed as a remedy for razor burns.
• Apple cider vinegar: Mix apple cider vinegar and water and place on the affected area. It may sting a little at first but it will help to heal the razor burn fast.
• Tea tree oil: It has medicinal properties that have been proved to treat skin infections. The American Cancer Society has credited it with antiseptic and anti-fungal properties. It soothes the skin and eases those pimply rashes. Simply mix it with water or olive oil and apply on the infected area.
• Oatmeal bath: If you have razor burns on legs or hands, oatmeal bath can be helpful to cure it. It is an effective way to soothe the skin. Grind up real oatmeal and mix it into your bath, preferably in warm water, then soak for 20 minutes.
• Apply Calendula cream for antiseptic protection.
• Green tea: It encourages healing and can be effective in easing the sting of the burn. Make a cup of green tea, cool it in the refrigerator and then apply to the affected skin with a soft cloth or cotton.
• Fresh avocado: Squash some fresh avocado and smooth it over the burned area. It moisturizes the skin well.
• Witch hazel: The extract of this flowering plant reduces the swelling and the signs of redness. It is soothing and also helps prevent infections.
• Almond oil: It is an excellent moisturizer. Applying it on razor burn skin helps to soothe it. Coconut oil can also be used, given its moisturizing properties.
• Strawberries and sour cream: This is a very effective home remedy for those painful razor rashes. Mash up some juicy strawberries with some sour cream. Make a paste and apply to the skin for 10-15 minutes. Strawberries help reduce swelling and redness while sour cream has a nice cooling effect.

Read more articles on Beauty & Personal Care.