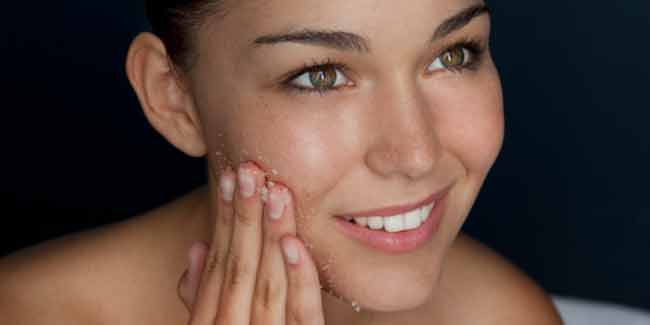 Exfoliation plays a vital role in removing layers of dead skin. In fact, exfoliation can be your key to fighting most irritating skin issues. Following are some tips to exfoliate and get rid of dead skin to look great from head to toe.
Face
Alpha hydroxyl acids like, glycolic and lactic acid are effective exfoliators. These acids can be found in moisturizers that are smooth enough for daily use or in higher strengths in masks or in-office peels. Salicylic acid, also known as beta hydroxy acid is another great exfoliating ingredient. It is usually used to treat acne and can be found in cleansers, moisturizers and pimple spot treatments. People who live in places with harsh winters must exfoliate their face only once or twice a week during that time of the year. But, during summer you can exfoliate anywhere in between twice a week to every day.
Lips
Lips need a gentler treatment. Use a cleanser which contains 0.5 to 2 percent salicylic acid. Wash the product over your lips. To avoid the flakes, apply a balm containing shea-butter.
Arms
Dark patches at the back of your arm are known as keratosis pilaris and although there is nothing you can do to get rid of them, exfoliation can make them feel a little smoother.
Elbows and Knees
On these parts, the skin is a bit thicker thus, you can opt for mechanical exfoliation instead of a chemical one. Use loofahs or scrub to clean these areas. After you have exfoliated, pat yourself dry, but not completely, with a towel and apply a moisturizer to seal the water from the shower.
Hands and Feet
The best ingredient you can use to exfoliate dry skin on these areas is urea, which can be found in lotions that have a concentrated amount as high as 40 percent. Urea is a useful ingredient as it exfoliates and hydrates simultaneously.

The importance of removing dead skin is not hidden. But, not everyone knows the right way to do it. So, follow the above mentioned points and exfoliate every body part perfectly.
Image courtesy: Getty Images
Read more on Skin Basics.