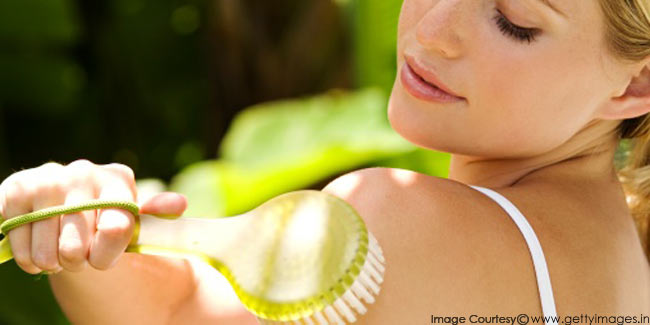 If you are wondering what to do with the dead skin and breakouts on the body, dry brushing is the answer. We list here all the things to know before dry brushing.
Though the name dry-brushing might not seem very appealing, the grooming drill can produce magical results. Trust us! And by dry brushing we are not referring just to your face but your whole body. Appreciators of this grooming process swear that it exfoliates the skin, leaving it smooth and glowing.


It is believed to improve the blood circulation throughout the body leaving skin healthy and bright. So now that we have told you the magic spell, let us also tell you about how it works and the pros and cons related to it. Make your way to a supple skin through these steps:

What is dry brushing- Yes you have guessed it right- brushing every part of your body with a specially designed brush but without water. It will gently remove all the dead skin accumulated on your body and will discover the radiant new body cells from within.

Kind of brush should be used- A brush with natural bristles would be ideal. You do not want to scratch your skin by compromising on the quality. One should use two different brushes for face and body. Face brush is usually smaller in size with slightly gentler bristles. Brushes with long and detachable handles are more convenient as it can reach amazing places like arms, stomach and legs.

Where to dry brush- While some may think that dry brush is only meant for face or legs, it's not true. You should dry brush every part of your body- back, stomach, feet, legs, arms, chest and even your hips. Just be careful not to brush over scratches or open wounds.

How to dry brush- You can start with your ankles and simply move up brushing in towards your heart. After brushing the legs, brush your stomach, arms and back. Be gentle with your strokes. Long sweeping strokes are ideal for arms and sides while circular strokes for underarms, wrists and ankles are better. The skin might appear a little pink afterwards but make sure it isn't red or too sensitive to touch.

Place to dry brush- When you dry brush your body, some skin is bound to shed. As a solution, you may want to dry brush standing in the bathtub or the bath area so that it can be washed away easily.

How often should you dry brush- When you are new to skin brushing, do it 3-4 times a week so that you know how your skin is reacting to the treatment. As soon as the body gets adapt to the process, you can brush it off daily.

How much time will it take- For dry bushing, you must add at least 5-6 minutes to your shower and grooming routine. You can do it longer to pamper yourself. But do not go overboard as the skin might get scratched.

After brushing- Take a shower to clean your skin completely and wash off all the shedding. Make sure you follow it with oil or moisturizer so that the skin does not feel the need of moisture. As a hygiene measure, wash your brush at least thrice a week and dry it properly.

Where to find a good brush- Skin brushes are easily available at cosmetic and drug stores. You can order them online too. The good little things don't even cost much.

Read more articles on Skin Care.