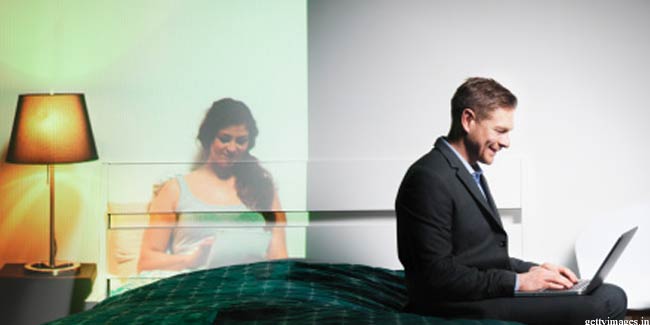 The distance problem kills many a relationship, the commonly believed theory being, "out of sight, and out of mind". Can you save your long distance relationship by doing fun things even when staying apart?
Couples in a long distance relationship should take out time for one another, and therefore must dedicate sometime of their day for each other. Yes, there is of course the Skype chat, the WhatsApp, the G Talk, and all the various options. But chatting is not the end of it all, and therefore a couple should be able to be doing things together even when they are far away from each other. Here are some things that you can your loved one can do when in a long distance.

Write Letters on Paper
Letter writing is a lost art, and it has a charm of its own. Now being away from each other there must be a lot to say, and chatting does not always help you to express what you feel and think. Your innermost thoughts and ideas hardly comes to being, and on a quiet morning if you can sit back and write letters to your lover then there is nothing that beats that. Write letters to each other on a regular basis, and by writing we mean write letters on paper, not through e-mail. The two of you can write and send each other letters at the same time!

Watch a Movie
You two can watch movies together! Start any movie at the same time and finish at the same time. It certainly will not be the same thing as sitting together and cuddling while watching a flick, but it is anyway a fun thing to do together. You can also discuss about the film from time to time! You can choose a romantic flick to increase the love quotient to this activity.

Read a Book
If the two of you are not too far apart and are living in the same country then this should not be a trouble. Pick up a book and read it to your lover over the phone, and two of you can bond and connect really well. There are so many offers for free calls these days, use them and have a nice time together bonding over a novel. You can also read poetry, or those long forgotten fairy tales. We assure you that time spent like this can be very fruitful and you will bond really well.
Play Online Games
There are many games these days on the internet that is devoid of time and space, therefore the two of you can partake in them. Play online games together to come closer to one another. This is one of the most fun things that you can do; you can play against each other or team up and play against the world. Whatever suits your fancy, but rest assured that online games are very productive to build a strong bonding between the two of you.

Listen to Music
Make a playlist and share it with your lover and the two of you can listen to it at a specific time together. This can be done while chatting online, you can simply play the tracks and let it go on. You can tell each other about the tracks you like and the ones you don't and exchange notes on them. Listening to music is a really good way to connect and bond, make sure that the track list includes genres that the two of you like, make it a mix bag.

Long distance is not much of a trouble if you have your heart and soul to it. Most people who say that it did not work because of long distance were never really trying. To them, it is the physical presence of someone which is more important, but true love does not work that way. In true love, you leave your heart to someone forever; no matter where they are your heart always follows.

Read more articles on Love.