The plight of a woman with an emotionally abusive boyfriend can be troublesome. Dating an emotional abuser can be emotionally stressing and problematic, but how would you know that your boyfriend is emotionally abusing you? The truth is that he will not be standing with a placard that says, "Am emotionally abusing you." In fact you may not know that you are in an emotionally abusive relationship.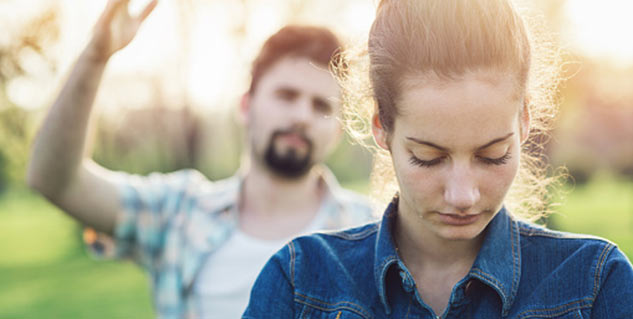 Dating an emotional abuser can have many negative impacts on you; for starters, it can make you lose your independence and your strength and confidence. You will be at the receiving end of things, and always trying to please him by putting yourself on the side line. Learn to recognise if you are facing emotional abuse in relationship with the help of the signs mentioned below.
A self-centred person

You are dating an emotional abuser if he is a self-centred person. A self-centred boyfriend will be the one to only nag you about his own problems, as he will never be there to stand beside you when you face your own troubles. A self-centred boyfriend is the one who will demand love and care every hour of every day and yet, will not give any in return.
He is not 100 per cent reliable

When he leaves you stranded to go home alone at midnight then you know he is not reliable. He will always have a nice back story for it, like he isn't feeling very well. But remember that if he is really a reliable guy then he would put your safety before his own comfort. You are facing emotional abuse in relationship if he is not reliable.
A person who reminds you of his options

You are definitely facing emotional abuse in relationship if he is always reminding you how he has so many women around him as options. He is always telling you how this colleague or that friend is interested in him, means that he is just wanting you to get on line and abide by him. He doesn't really want you; all he wants is someone around him to worship him.
He tends to have a temper

If your boyfriend is always throwing his temper around even for the smallest of reasons, then he is trouble. An emotionally abusive boyfriend will always be quick to get angry, and will take a long time to forgive and forget, no matter how small the matter is. Remember that most of what he is doing is just show, for some weird reason of his own, he likes to act superior.
He has a few bad behaviours

You are always expected to be the fixer for his bad behaviours. He could be into drugs, or alcohol, or swear too much, etc. These behaviours are of someone who is not mentally and emotionally stable; therefore, he is capable of emotional abuse. Are you trying to correct him and make him overcome his troubles? Well, you are being emotionally abused!
Image: Getty
Read more articles in Sex & Relationships.