"We should not give up and we should not allow the problem to defeat us." - A. P. J. Abdul Kalam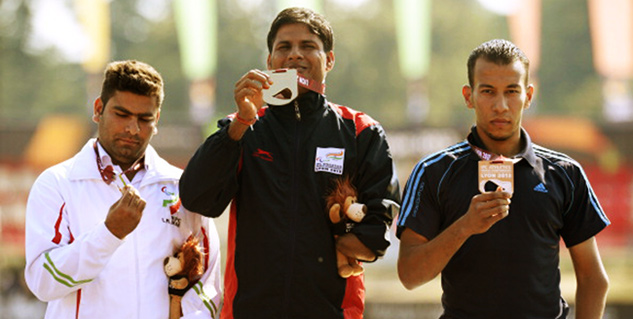 There will be many times when life will knock you down, when things won't go as you planned and then there will be times when you won't have a single motivation to get out of your bed. However, it is totally up to you how you react to every hurdle that life sets forth, every trouble that life throws at you. Either you just give up and don't move a limb to get back or you just come out on top. There are a huge number of people that in one way or another are knocked down by life and not many of them fought back but the people who did, made history.

Born on 10th June 1981, one such brave soul is Devendra Jhajharia. Coming from a rural background, Devendra lost his arm when he was eight. In a very fateful event, where while climbing up a tree, he accidentally came in contact with a live electric cable and despite receiving medical attention, doctors were left with no choice other than amputating his left hand. His arm was not the only hurdle, his family was not sufficient enough to financially support his dream of making it in sports world. Against all odds, Devendra was trained by Coach R. D. Singh, who himself is a Dronacharya Awardee. Devendra was spotted by Singh while competing in school sports day.

In 2004, Devendra did us Indians proud by winning in Summer Paralympics took place in Athens by winning a gold medal in Javelin throw and bagging the title of Javelin Genius. After that, Devendra's sports career took a major setback because of lack of financial support and any sponsorship, even government turned a deaf ear and Devendra's all the pleas for sponsorship went unheard. He even wrote letters to government but got no response. Although Devendra is an employee of Indian Railways but the means are very limited. However, limited resources did not stop Devendra to showcase his stellar performance as he won many more accolades in following years and went on tom win a Padma Shri.

Of course, Devendra was eyeing something big and after 12 year of wait, he broke his own record in Rio Olympics this year. Currently, the 36 year old is ranked third in the world with a gold medal in Javelin Throw.
Devendra Jhajharia's story tells us that it's not us that back down, it's our courage.
Image: Getty
Read more articles in Sports and Fitness.
For more such stories, Download Onlymyhealth App.