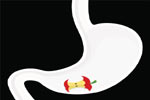 Here is a bad news for those who thought only obesity could be trouble. Now it turns out that even being underweight can cause you death, and in fact the risk increases when you are underweight.
A new research led by Dr. Joel Ray who is the physician-researcher at St. Michael's Hospital, University of Toronto looked at the relationship between weight and risk of a premature death. It was found that having a body mass index in the underweight range is linked to an even higher risk of death than the chances when one is obese. The review was published in the Journal of Epidemiology and Community Health.

The researchers found that both adults and foetuses being underweight are linked to a higher risk of death from any cause. To analyse it they had reviewed and pooled in data from about 51 studies that examined the link between body mass index (BMI) and the deaths that can be caused. BMI is a measure of body fat which is based on weight and height and applied to adult men and women. BMI is used to classify underweight, overweight and obesity in the adults. The World Health Organization says that a BMI which is under 18.50 is one that is underweight, 18.50 to 24.99 is normal, while 25.00 to 29.99 is considered to be overweight. Then those that are over 30.00 are classed to be obese.

The Link between being Underweight and Death
In the review Dr. Ray and his colleagues found that the adults with a BMI classed as underweight had a 1.8 times higher risk of dying from any cause than adults with a BMI classed as normal. This was even higher than for people classed as obese.

For those who have a BMI in the range 30.00 to 34.99 which means they are obese, have 1.2 times higher risk of dying than those people who had a BMI that was classed as normal and those who had BMI higher than 35.00 which is considered to be severely obese had 1.3 times higher chances. This analysis had only included studies that had followed people for 5 years or more so that they could rule out people who were underweight because of illnesses like cance,r heart failure and lung disease.

The researchers also notes that common causes of being underweight include malnutrition, heavy use of drugs or alcohol, low-income background, smoking, poor self-care and poor mental health.

The thing is that if you are looking at problems such as excess body fat then you should in fact replace the BMI with a proper measure of body fat, like the size of the waist. We are fighting to curb obesity epidemic of underweight adults and foeturses who are in fact otherwise on the correct weight. It is therefore only right to use the right measurement tool.

Image Courtesy: gettyimages.in

News Source: medicalnewstoday.com

Read more on Health News.