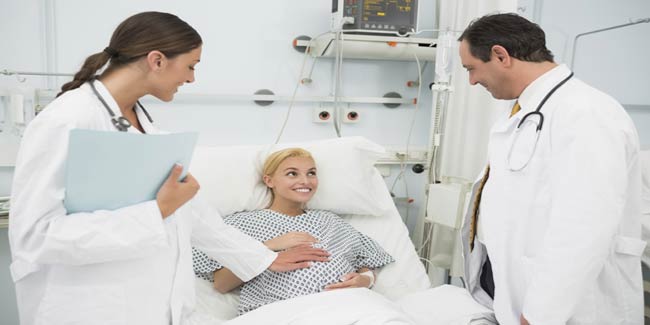 Malaria during pregnancy can be evident with the presence of symptoms such as anaemia, jaundice, convulsions and even enlargement of the spleen.
Studies have shown that if you are pregnant then you are susceptible to malaria, and furthermore, malaria while you are pregnant can decrease your level of immunity.

Malaria in a pregnant women can give rise to numerous complications; such women can suffer from jaundice, anaemia, haemorrhage, enlargement of the spleen, and even kidney failure. There is also the great risk of stillbirth, low birth weight in babies and neonatal death.

Fact file
In the sub-Saharan African region, more than 200,000 newborns lose their life due to malaria every year.
30 million women in Africa alone become pregnant in malaria endemic areas every year.
Malaria during pregnancy can lead to acute anaemia in mothers, stillbirths, intra-uterine growth retardation and also low birth weight in newborns.
3 to 5% infant deaths are attributed to malaria in endemic regions.
Malaria during pregnancy not only increases the risk to pregnant women but also has a telling effect on the health of her unborn baby. Pregnant women are at an increased risk because of their state of health.
Symptoms of Malaria during Pregnancy
Anaemia is commonest symptom of malaria during pregnancy in both impoverished and developing nations. The endemic nature of malaria triggers the disease in pregnant women and that makes the woman more susceptible to anaemia during pregnancy. It is one of the most visible symptoms of malaria and any pregnant woman who is anaemic should be tested for the presence of malarial parasites. Anaemia due to malaria is most evident between 16 to 29 weeks of pregnancy.
Fever is another symptom of malaria during pregnancy. Fever due to malaria can be of variable grades ranging from low grade to high grade fever. In the second trimester of pregnancy fever symptoms of malaria can appear in the form of paroxysms or sudden attacks and chills.
Enlargement of the spleen is another symptom of malaria during pregnancy. However, it is again a variable symptom and it may or may not be present.
Diarrhoea which includes vomiting is another symptom of malaria during pregnancy.
Pregnant women with malaria may also exhibit symptoms of convulsions which can range from being mild to extreme.
The other symptoms of malaria during pregnancy are jaundice, altered sensorium and coma.

The malarial symptoms during pregnancy manifest only because the region that these pregnant women live in are endemic in nature. The symptoms of malaria during pregnancy can weaken the immune system of pregnant women and can also cause serious harm to their unborn baby. Moreover women who develop malaria during their first pregnancy are more likely to develop the disease in their subsequent pregnancies.

There is a chance that your baby may get malaria too, but most babies have been found to be unharmed if the mother is suffering from malaria. At times the baby can catch the disease through the placenta, and when this happens then it gets serious. But if caught early then it can be very well treated and so you will have to keep an eye on your child for any such symptoms.
Ensure thorough treatment for malaria in order to avoid complications during pregnancy.

Read more articles on Pregnancy Problems