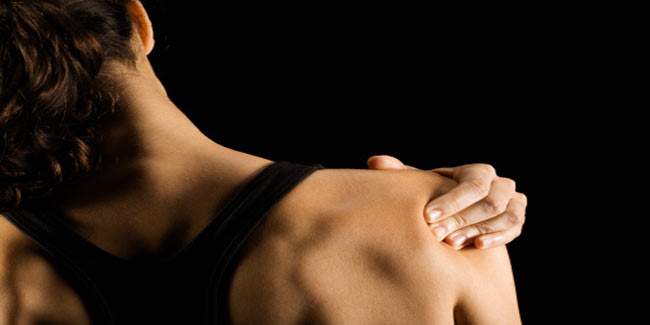 Shoulders are one of the common body spots that can be affected by bone cancer. Aches, fever, changes in bowel habit and bone fracture are some common symptoms of bone cancer in shoulder.
Shoulders are one of the common body spots that can be affected by bone cancer. Bone cancer in shoulders can be a little difficult to diagnose and therefore, it is necessary to study the symptoms very carefully and in detail.
The following are some of the common symptoms of bone cancer in shoulders.

Fatigue or Tiredness: Tiredness and loss of energy is one of first signs for all types of cancers. If you feel that your energy level is decreasing, then it might be an indication of bone cancer.

Aches: Usually pain is not an early symptom of cancer. A cancer patient feels the pain only when the cancer spreads in the body and starts affecting the nerves. However, bone cancer in shoulder is an exception. If the patient is suffering from bone cancer in shoulder, they would feel slight pain in the region. This pain would get worse if the patient engages himself in any sort of physical activity and this pain can be acute enough to not allow the patient to sleep peacefully at night.

Fever: If you are suffering from an unusual fever without a known cause, it should not be taken lightly. It might be a symptom of bone cancer. This is because the body tries to fight against the infection caused by tumour.

Unintended weight loss: Loosing significant amount of weight without trying for it can be a dangerous sign that should not be overlooked. Apart from being a symptom of cancer, it may also be a cause of many other illnesses. Therefore, if you have lost about ten pounds or more within a short period of time, it is strongly recommended to visit a doctor without wasting time.
Changes in bowel habit: Some of the common bowel changes that may be symptoms of bone cancer are diarrhoea, constipation, traces of blood in stool, thinner stool or gas.
Bone fracture: If your shoulder bone gets fractured due to a minor injury, it might suggest the existence of tumour in the region which may turn cancerous.

Night sweats: Do you often wake up in the middle of a night drenched in sweat which is also accompanied with fever? If such an incident has occurred just once or twice, it can be overlooked. However, if this is a common phenomenon, visit a doctor without any further delay.

Redness, tenderness and swelling: Examine your shoulder area where you feel the pain carefully. If you see redness and swelling there, it can be a dangerous sign. Also, if that region feels tender to touch and the tenderness does not go away in a couple of days, do not take it lightly. It can be due to the fracture and tumor in the surrounding tissues. It is advisable to get it checked and treated as soon as possible.

In case you experience only a couple of these symptoms, it may or may not indicate bone cancer in shoulders. However, it is advisable to see a doctor and get yourself examined to be on the safer side, as chances of getting the bone cancer in shoulder cured are much higher if it is detected in the early stages.
(Image:Getty)
Read more articles on Cancer.