Hydration, moisturization, and softening of the skin, what else could you ask from a beauty product which claims to make your skin texture perfect within weeks. However, the side-effects they leave behind end you up with a burning hole in your pocket and few pimples here and there. But, when you have natural remedies like argan oil why would you prefer rubbing chemicals on your face. Argan oil or ``liquid gold'' as popularly known can moisturize your skin and can give you exactly the skin texture you desire for.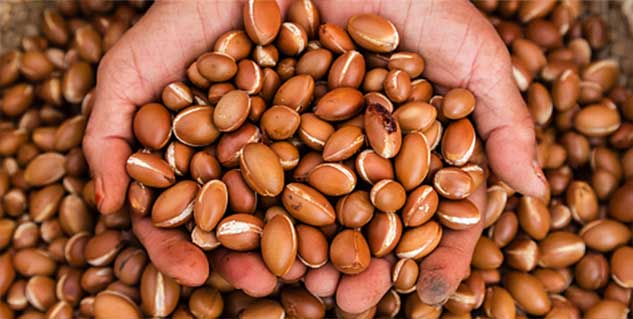 Image source : Getty

Argan oil is extracted from argan nut which comes from argan tree that can only be found Southwestern Morocco.
Argan oil can be the one-stop solution for all your beauty woes. The benefits of argan oil for skin are so many that those beauty products will eventually appear to be a waste. Using argan oil for skin nourishment can prove to be fruitful as it contains essential fatty acids, anti-oxidants, vitamins, and minerals. The argan oil skin benefits keep on multiplying as it contains no toxins. Protecting your skin from sun damage, the benefits of argan oil for face will leave you speechless.

Here are 10 ways in which you can use argan oil to have a healthy skin.
Moisturizer
Once you have cleansed your face in the morning or night, massage your face and neck with few drops of argan oil. Agran oil is dry hence, it gets absorbs quickly and does not give you sticky feeling. You can also use it as a serum, you can apply your daily night cream once the oil has absorbed completely.
Also read : Miraculous hair growth oils to grow your hair like crazy
Toner
You can add few drops of argan oil to your usual toner and apply it on the face. Also, you can make your own toner by adding few drops of argan oil to rose water.
Face mask
Make a face pack for rejuvenating and brightening your skin. Add few drops of argan oil to your normal face pack. You can make your own pack by mixing one tablespoon lemon juice, 3 teaspoon greek-style yoghurt, one tablespoon honey and add few drops of argna oil to it. Apply the pack on clean face and let it dry for 10 minutes. Clean the pack with warm water.
Also read : How to use olive oil for hair growth
Lip scrub and moisturizer
Having those soft glowing pink lips are no more beyond your reach. Add few drops of argan oil to vanilla extract and brown sugar. Massage your lips with this pack.
Glowing the face
Add two drops of the wonder oil to your normal foundation, bronzer, or tinted moisturizer. This will leave you with a radiating face.

Argan oil can become your favourite for all your skin related troubles. From radiating skin to healthy lips, argan oil can do everything for you.
Top image source : Getty
Read more on Beauty and Personal Care.