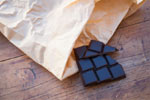 Researchers find that consumption of dark chocolate helps to prevent or increase resistance to obesity and type 2 diabetes.
Researchers have found that the basic ingredient that goes in the making of chocolate and one of the most flavanol-rich foods can help in preventing people from putting on weight and lowering blood sugar levels.
According to different sources, scientists have found a particular type of antioxidant present in cocoa that when added to food makes a lot of difference in keeping weight scales down and improving the level of glucose intolerance levels. This was ruled out when the experiment was done on laboratory mice.

Researchers also stated that the antioxidant, called oligomeric procyanidins have the greatest anti-obesity as well anti-diabetic bioactivities of the flavanols present in cocoa. Researches that were done in the past have found an association between cocoa and its benefits in improving health, decreasing appetite as well as lowering blood pressure.

The study was published in American Chemical Society's Journal of Agricultural & Food Chemistry.
Read more Health News.