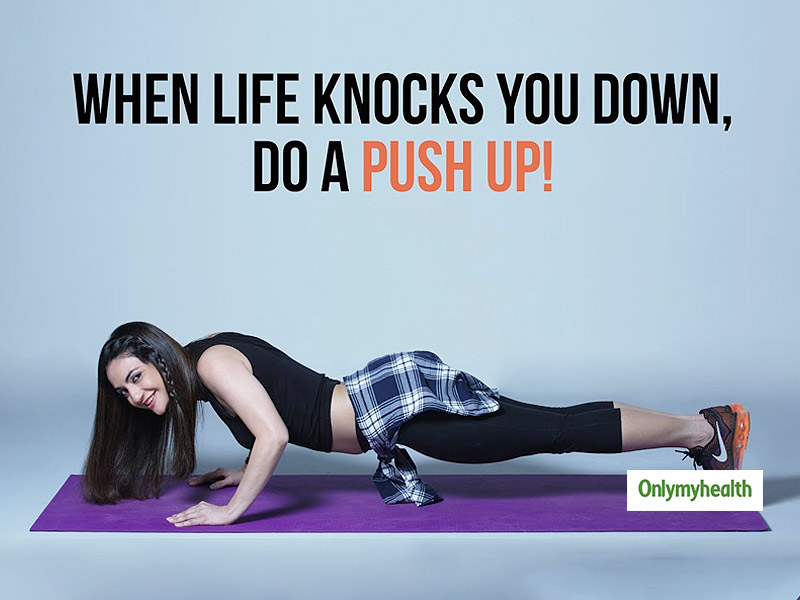 What are the correct way and health benefits of doing push-ups exercises?
Push Up Exercise Health Benefits: The pushup is the perfect exercise to build both core strength and upper-body. If done correctly, then it is a compound exercise that uses muscles in the shoulders, chest, back, triceps, legs and even the abs. It has several modifications so newcomers can start with lighter versions and work up to the regular pushup, while if you are advanced, you can find a challenging variation. You can do pushup as part of a circuit training workout, a bodyweight exercise session, or a strength workout. Is it risky to do push-ups daily? One risk of doing anyone exercise daily is that it increases your risk of plateauing, which means that you no longer gain the benefits from your training. This happens because your muscles adapt their function when they are stressed. So it is essential to continue to challenge your muscles to improve your physical fitness level. Doing pushups without having the correct form can lead to damage. For instance, you may experience shoulder or lower back pain if you don't do pushups properly.
Steps to do push-ups exercise
To do push-up exercises, you should follow some steps given below (will make it easier to do push-ups).
Get on the ground on all fours, position your hands slightly wider than your shoulders.
Stretch your legs back so that your toes and hands support you.
Keep your body in a vertical line from head to toe without arching your back or sagging in the middle. You can position your feet a bit wider depending on what is most convenient for you.
Before you begin, tighten your core and contract your abs by pulling your belly button toward your spine. Keep a tight focus throughout the whole pushup.
Inhale as you lower yourself and slowly bend your elbows until your joints are at a ninety-degree angle.
Exhale as you begin pushing back up through your hands and contracting your chest muscles to the start position. Keep the elbows slightly bent and don't lock out them.
Repeat as per your workout routine. If you have to pass a fitness test, you can use a few simple strategies to build your strength to do more pushups. One popular plan is the "one more pushup a day" approach. This is when on day one you do one push-up, then on day two you do two push-ups, and so on.
Also Read: Buddy Workout, Exercise With Your Buddy For A Fun Fitness Session
Tips for doing push-ups in a proper way: During the push, you must keep the following things in mind
Keep your back straight, and the core engaged.
Keep your hips down (do not keep them up).
Do not place your chest on the ground
Keep your hands firmly on the ground so that your wrist is protected.
Benefits of push-ups: Push-up exercise is beneficial for our body in many ways. Let us know the advantages of push-ups in detail.
Push-ups exercise helps create balance and stability: Push-up exercise is considered the best training for muscle growth as it helps to improve your proprioceptive muscle fibres. These fibres are the micro nervous system that maintains your balance. When you try to do a push-up, these nerves trains the body to react more quickly to stimuli that affect your balance and speed.
Full Body Workout: Push-ups exercises help you keep fit by working on more number of muscles in your body. Push-ups help you focus on your hands, stomach, and your lower body at the same time. It trains the muscles in your body to work together and become stronger.
Push-ups to Build Muscle Density: With increasing age, you begin to reduce muscle density which changes the way of burning energy. Exercise is an excellent way to improve muscle density. To build muscle in different parts of your body, you are required to outline the ideal number of push-ups regularly.
Push-ups for a strong core: Push up exercise is very beneficial for a strong core. If you are searching for exercises for washboard abs and a strong focus, then push-ups may be the right starting exercise for you. This exercise helps you to fix the problem of the abdominal section, waist and some pelvis etc. Strong core muscles allow you to efficiently perform physical activities, help with back problems, and maintain good posture.
Push-ups exercise for upper body definition: Push up exercises are very good for our workouts; it is beneficial for the development of our upper body and chest. Doing push-ups every day will help you in gaining strength. But keep in mind that you have to do some other types of exercises; besides, push-ups to challenge your muscles.
Read More in Exercise and Fitness