Polio eradication programme may soon reach its destination as about 150 countries are switching to new variants of polio vaccine. This vaccine aims to target the two remaining strains of this virus.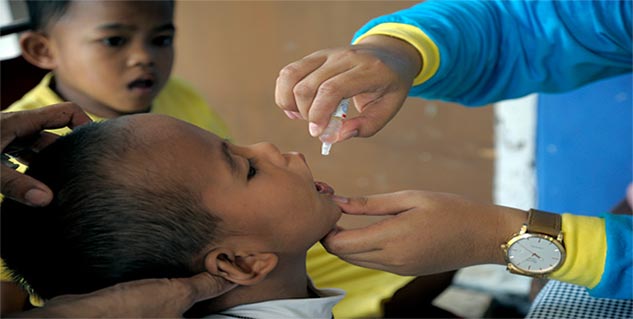 In 2015 only 74 cases of polio were found and about 10 are reported till date this year. These cases were reported in Pakistan and Afghanistan. The African region is found to be free from polio. The vaccine used till date is highly trusted and reported to fight polio successfully from past 30 years.

This new vaccine is packed with dormant form of two variants of polio virus. The weakened version of polio virus i.e type 2 is removed to prevent any mutant circulating vaccine-derived virus. The type 2 virus was reportedly eradicated in 1999. This new vaccine will be given asoral drop only.

Polio is a viral disease mainly affecting kids under five year of age. The initial symptoms of this disease include vomiting, fatigue, headache, pain and stiffness in neck and limbs and sometimes fever.

This disease is highly infectious and mainly damage nervous system resulting in partial or total paralysis. If immediate attention is not given to the child the paralysis may remain lifelong. About 5%-10% victims die due to immobilization of breathing muscles.
Source : BBC News
Image Source : Getty
Read More : Health News