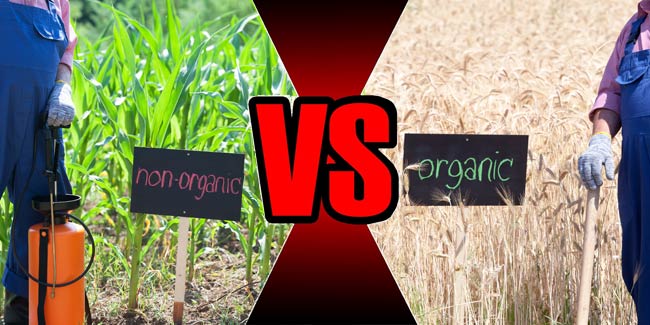 Since 1990s organic food is increasingly becoming popular as it is considered to be better for health. Here the natural fertilizers such as manure and compost are use for boosting the production process of food.
Organic foods are becoming increasingly popular and more and more people are opting for organic foods. People who advocate use of organic foods consider it to be better for health. In the 1940's use of pesticides and other chemicals was started to boost food production and it was easier than using natural fertilizers, like manure or compost. But from 1990's organic foods have been increasing in popularity due to several reasons.



Organic: Pros
Use of natural products: Most of the products used to grow organic foods are natural. In the U.S. for foods to be labeled as organic 95% of the ingredients used to grow it must be organic. The chemicals and pesticides used for growing non-organic foods have been linked to several diseases even cancer.
More nutritious: Nutrient content of organic foods is probably higher than non-organic food---like it contains more vitamin C, calcium, iron, magnesium, and chromium. Organic foods probably have more antioxidants. Antioxidants are known to help reduce the risk of certain types of cancer.
Better for children: Organic foods are probably better for children as they are likely to be more sensitive to pesticides and their food intake is more for their weight as compared to adults. Most of the chemicals used in traditional farming have been observed to be associated with asthma, childhood cancers like leukemia, and learning/behavioral disorders.
Environmental friendly: Using less of synthetic chemicals used for growing non-organic foods is good not only for us but for the environment as well.
Organic: Cons
Cost: Food grown organically may cost twice as much when it's grown non-organically.
Is it really organic: This is major question or the food is just labeled as organic. Have the rules and regulations for growing organic foods have been followed.
Non-Organic foods: Pros
Lower cost: As the production cost of non-organic foods is lower than organic foods and most farmers are able to get financial aid from the government these foods cost lower than organic foods.
Bountiful selection of food: As the number of non-organic food producers out number organic farms, more types of foods are available that are grown non-organically.
Non-Organic foods: Cons
Harmful: The chemicals and pesticides used for growing non-organic foods are harmful for health. The chemicals used in traditional farming are associated with asthma, cancers and learning/behavioral disorders in children.
Negative effect on environment: Chemicals like pesticides and fertilizers chemical can harm not only the humans but the environment as well. The risks to earth and our environment are probably both short- and long-term.
The primary benefits of organic foods are:
You eat only natural food and substances and are not exposed to the synthetic chemicals and pesticides.
Potential factors that can negatively effect the environment are removed or decreased.
In addition if you have sophisticated taste buds, you may feel that organic foods taste better than the traditional foods.