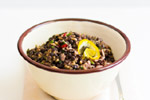 Eating a serving of lentils every day can help in keeping bad or LDL cholesterol away, says a Canadian study.
A recent Canadian study has said that eating lentils such as those that are commonly added to prepare Indian dal is one of the easiest ways to keep bad or LDL cholesterol away. The study was conducted in St. Michael's Hospital in Toronto.
They drew this result after observing 1,000 people who had taken a daily serving of legumes and were reported to have had 5 percent reduction in LDL levels.
A press release that was sent by the Canadian Medical Association Journal said that the lead author of the study, Dr John Sievenpiper mentioned that a 5 percent reduction in LDL cholesterol implied a 5 percent lowered risk of heart diseases. Some of the people who took part in the study said that they had stomach problems such as flatulence, bloating, diarrhoea or constipation as a result of eating legumes, though the gains were unmistakable.

The highly recommended advice that a healthy diet keeps the heart healthy is lent credence to by this study. But, considering the Indan diet, one wonders where all the benefits of legumes go to among Indians. This is because dal is a staple diet for most of India and they include it in every meal. Despite of this devoted consumption of dal, Indians have worrisome levels of cholesterol in their body.
The experts have come to blame the Indian genetic make-up for the cholesterol-related health problems. They said that it would work well if one looks closely at the Indian Thali and see if there is anything that needs to be changed.
Article source: TOI
Image source: Getty Images
Read more Health News.