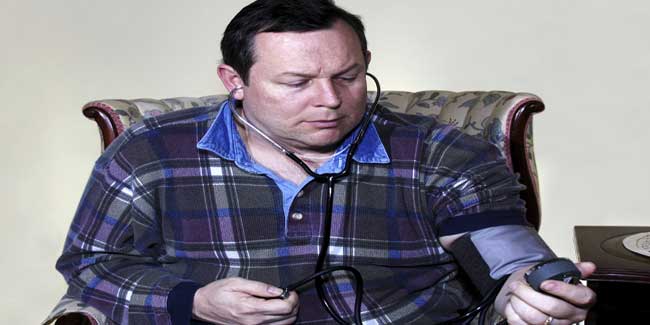 Obese or overweight people who lower their blood pressure levels could cut their risk of heart disease, a new study indicates.
It is a well known medical fact that obese people are at a higher risk of developing heart ailments. But how wonderful will it be if such people could somehow cut this dreaded risk.


A new study has indicated that by lowering their blood pressure, cholesterol, and blood sugar levels, overweight people can reduce their risk of heart stroke by more than half.

97 studies were analyzed by the researchers. These studies included more 1.8 million people worldwide. High blood pressure, cholesterol and blood sugar levels explained up to half of overweight and obese people's increased risk of heart disease.

Their increased risk of stroke is also accounted with these same factors. High blood pressure posed the greatest threat, accounting for 31 percent of the increased risk of heart disease and 65 percent of the increased risk of stroke, according to the study, published online Nov. 22 in The Lancet.

"Our results show that the harmful effects of overweight and obesity on heart disease and stroke partly occur by increasing blood pressure, serum cholesterol and blood [sugar]," senior study author Goodarz Danaei, an assistant professor of global health at Harvard School of Public Health in Boston, said in a school news release. Therefore, controlling these risk factors -for example, through better diagnosis and treatment of high blood pressure -- can prevent some of the harmful effects of overweight and obesity, he added.

Since 1980, obesity has nearly doubles worldwide. More than 1.4 billion adults aged 20 and older are overweight or obese. Moreover, about 3.4 million people worldwide die each year because of overweight and obesity, according to the researchers.
Read more Health News.