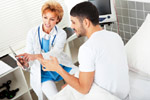 In a new study researchers have suggested that drugs are pretty useless for brain diseases and therefore a nasal spray connecting to the brain should be used.
A new research suggests that in matters of brain diseases, pills are extremely inefficient for delivering the drugs to parts of the brain.

Assistant professor Massimiliano Di Cagno at the Department of Physics, Chemistry and Pharmacy at the University of Southern Denmark said that those people suffering from brain diseases are most times given huge amounts of drugs that are not necessary for them. In fact all the excess amount of drugs could be problematic to your health in the long run.

Cagno and his colleagues have turned their attention to the nose, typically the nasal wall and the slimy mucosa that covers it. A person who is a cocaine addict can assimilate substances very quickly through the nose. But this is not the same for medical substances, as it needs help to be transported through the nasal wall and also on to the relevant places in the brain. Polymers is responsible for the drug delivery through the nose and is actually a large molecule which is composed of a large number of repeats of one or more types or groups of atoms to each other.

This study was published in the International Journal of Pharmaceutics.

Read more on Health News.