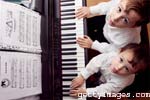 If you have enrolled your child in a music class, there is a chance he/she will grow up to have a better brain processing ability.
A recent study done by a team of researchers from the Northwestern University has come up with a theory that exposing children to some form of training in music has lasting positive effect on their brain when they grow up to be adults. That is to say that their brain processes sound much better than someone who has not had any training in music.
The researchers added that playing a particular musical instrument changes the kid's anatomy as well as function of the brain; but, it was much in debate whether the discontinuation of training would keep the changes going or not.

The team tested 44 adults some of whom had had some type of musical training previously and those who had no training at all. The musical groups underwent training at the age of 9 because it is when kids reach the age of 9 that schools start teaching them music. The brain of the participants was tested to see their response to fast-changing sounds.

By the end of the study the researchers found that despite the fact that the adults aged almost 40 years had not played any musical instrument, they were the fastest to respond to speech sound because of their 4-14 years of music training early in life.

The study was published in The Journal of Neuroscience.
Read more Health News.