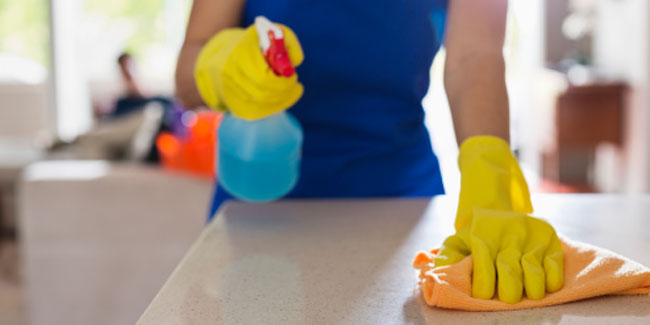 A new research says that using disinfectant wipes in the kitchen can help in cutting risk of food poisoning by 99.2 percent. Dr Gerardo Lopez along with his colleagues at the University of Arizona in the USA used antibacterial wipes on some of the most typical counter top materials such as ceramic tile, laminate and granite. They did so to see if they can reduce risk of cooking and ingesting harmful bacteria.

The results with information from several other studies that examined transfer of bacteria from food to surfaces (including mouth) were put in a computer to tell the potential reduction in risk of infection from the use of disinfectant wipes.

The result of the study indicated a reduction in annual risk of Campylobacter jejuni infection of up to 99.2 percent, thereby reducing risk from 2:10 to 2:1000.

According to Dr Lopez, a scary thing about Campylobacter was that one did not need to ingest so many bacteria to develop a nasty illness and therefore, it is essential to wipe the kitchen surfaces clean and wash hands post poultry preparations.

Campylobacter infections are very common and have been said to cause diarrhea and vomiting; they can be very dangerous for older adults, young children and those who have a compromised immune system.

Dr Lopez further explained that it was not just the physical removal of bacteria by the wipe that helps, but the antibacterial solution left behind on the counter surface continues to disinfect over the next several minutes.

There is a good chance that the disinfectant wipes will effectively reduce risk of other food poisoning illnesses such as those caused by noroviruses, E.coli and Salmonella.

To ensure the greatest protection, use wipes to disinfect all surfaces that may have been sprayed or splashed. These surfaces may include sinks and taps, stove top and counter tops. Stopping the use of a singular cloth, sponge or towel may also prove to make a difference. Try and use disposable wipes or paper towel for clean-ups.

The findings of the study have been published in the Society for Applied Microbiology's Journal of Applied Microbiology.

Read more Health News.
Image source: Getty
Source: zeenews.india.com