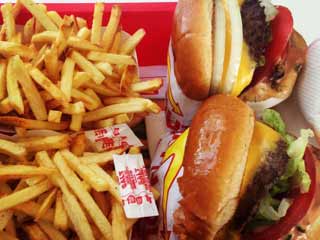 A new research has suggested that a high intake of fried foods and red meat can impair proper functioning of your brain and can affect your cognitive skills.
Junk food has been quite infamous for adding extra kilos to your weight and increasing your waistline. But, a new research has suggested that it can also have adverse effects on your brain.

The researchers have found that excessive intake of a western diet by 14-year olds had scored lower in cognitive tasks by the time they reached the age of 17.

In the western dietary patterns, the study found that the participants with a high consumption of take-away food, deep fried potatoes, red and processed meat and aerated drinks had a slow reaction time mental ability, visual attention, learning and memory.

While participants who ate more fruits and leafy vegetables had a positive cognitive performance.

It was told by researcher Dr Anett Nyaradi that the increased micronutrient content found in leafy green vegetables had an association with an enhanced cognitive development.

According to Dr Nyaradi there are several factors playing a role in this diet-related decrease in cognitive skills. These factors include the level of omega-6 fatty acids found in fried food items and red meat.

The metabolic pathways are found to be best functioning when there is a balanced 1:1 ratio of omega-3 and omega-6 fatty acids. However, this ratio is found to be shifting to of 1:20 or 1:25 in western diet, according to Science Network.

Dr Nyardi told the Science Network that excessive intake of saturated fat and simple carbohydrates can impair the functioning of hippocampus, which is a brain structure mainly involved in learning and memory that increases its volume during adolescence.

She said 'adolescence represents a critical time period for brain development. It is possible that poor diet is a significant risk factor during this period…indeed, our findings support this proposition'.

'These findings have important implications for future health policies and health promotion programs.'
Image courtesy: Getty Images
News source: dailymail.co.uk
Read more Health News.