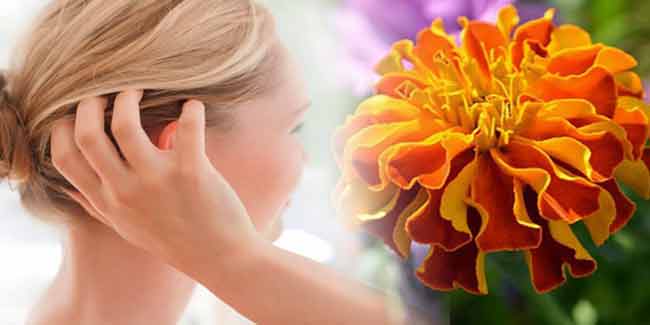 Scalp itch is very common given the amount of sweat that can get trapped under your hair. You can, however, easily treat it with marigold flowers.
Would you be cool with someone itching their head repeatedly in front of you? Obviously, you wouldn't! Nobody looks good pulling off that odd act, but you can't help it when you have an itchy scalp. An itchy scalp can get very discomforting and embarrassing at times, especially when you are socializing. On several occasions, the irritation and scratching can result in redness and rashes. To be able to get rid of that itch you will need to first understand the reason behind it. The causes for an itchy scalp may include dandruff, dry scalp, sebaceous cysts, switching shampoo, poor hair care, poor diet or scalp fungus. And, to fix these causes you should try a natural treatment that is completely safe for your skin as well as hair.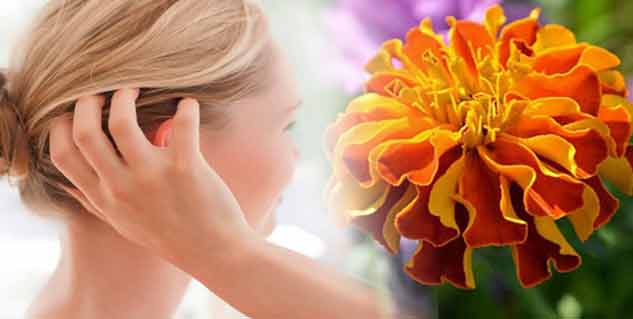 Instead of drilling a hole in your pocket to get rid of this problem, try marigold flowers as they contain high amounts of falconoids that protect against harmful free radicals. In addition, flowers of marigold are known for their anti-inflammatory, antiviral and antibacterial properties. Here is how you can use them for treating scalp irritation.
Marigold infusion for scalp
Things you will need to prepare marigold infusion include: 4 marigold flowers, 500ml water and ½ of a lemon. Boil marigold flowers in water for about 2 minutes. Then, allow it to steep for 5 minutes. Now squeeze the lemon in the infusion and mix it thoroughly. Once your infusion is ready, you can massage your scalp gently with it before shampooing. You can later wash your hair with apple cider vinegar to keep dandruff at bay.


Wash your hair with a mild shampoo and let them dry naturally. Don't blow-dry your hair as it can worsen irritation. For best results, use this infusion on a regular basis to get rid of symptoms of scalp psoriasis as well.


So, with just a few flowers of marigold, you can turn your itchy scalp into a healthy one.
Image Source: Getty
Read more articles on Home Remedies