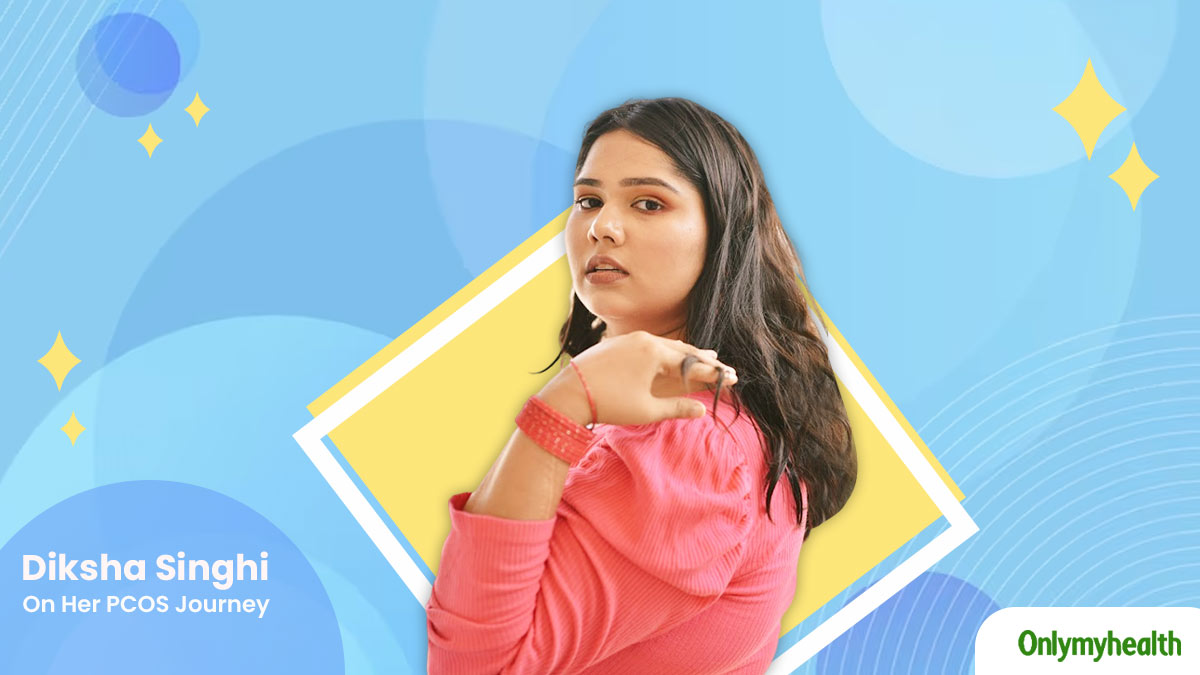 The idea of body acceptance, body confidence, and body positivity did not come easy to Diksha Singhi, a budding social media influencer, who goes by the name @alwaysalittleextra on Instagram. After years of being bullied for not looking a certain way, being called a 'tomboy' for not dressing up 'femininely', being commented upon by her teacher and having to give up on so many of her passions, she eventually realised she did not have to adhere or live up to people's beauty standards.
A major part of her childhood and teenage years was dictated by people telling her to lose weight or to join the gym, which according to her, was the 'worst!' "Telling people is where the problem starts," she says. "If people did not tell me to lose weight, and if they just told me, 'let's work out,' I think it would have been more fun for me; I would have seen it as an activity," she adds. According to her, not many people understand that there could be several underlying problems, which cannot be resolved simply by working out. For many, losing weight is not easy; it is not something that can magically happen with workouts, particularly for someone suffering from Polycystic Ovary Syndrome (PCOS).
Talking to the OnlyMyHealth editorial team, Diksha narrates her journey with PCOS, how it impacted her physical and mental health and how she overcame it all through a suitable lifestyle.
Also Read: 7 Things You Must Know About PCOS
Life With PCOS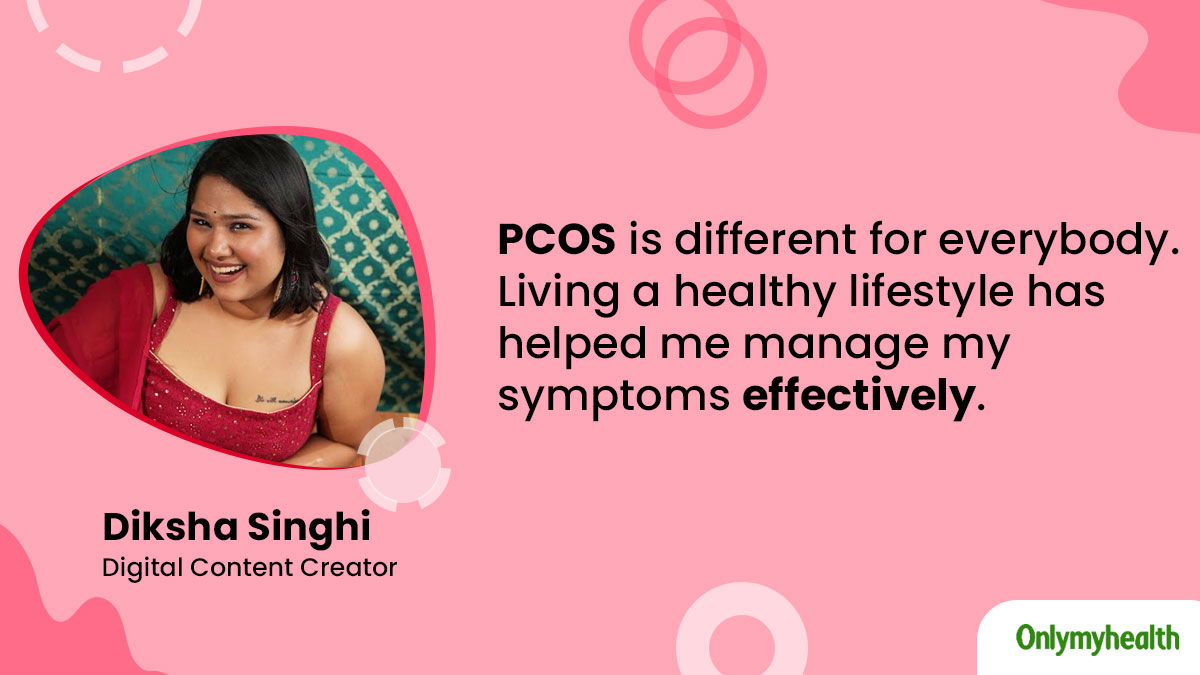 For Diksha, her PCOS diagnosis was a matter of chance. She says, "I got diagnosed very early. I had visited the doctor for another reason, but after an ultrasound, I was told I had early symptoms of PCOS. There were not many cysts but a marginal amount, which is why the doctor told me to take care of myself."
Ideally, PCOS cannot be diagnosed until 2 to 3 years after the occurrence of menstruation. It may take 2 to 3 years for a girl's cycle to become regular, says Dr Anusha Nadig, Associate Consultant Endocrinologist, Fortis Hospital, Bannerghatta Road, Bangalore. According to the doctor, most women are diagnosed in their 20s. However, early diagnosis and treatment are important for women with PCOS to improve their quality of life and well-being, as well as to protect against long-term complications such as diabetes, infertility, heart disease, and endometrial cancer.
Fortunately for Diksha, the diagnosis came at a time when she had already started her fitness journey. This helped her manage her symptoms comfortably. She says, "In general, living a healthy lifestyle has helped me make sure that my PCOS does not impact me aggressively. But of course, PCOS is different for everybody. I will say that I'm lucky that it has not adversely impacted me. It only impacts me when I am unable to take care of my body."
Acne Flare-Ups, Bloating, Weight Gain Woes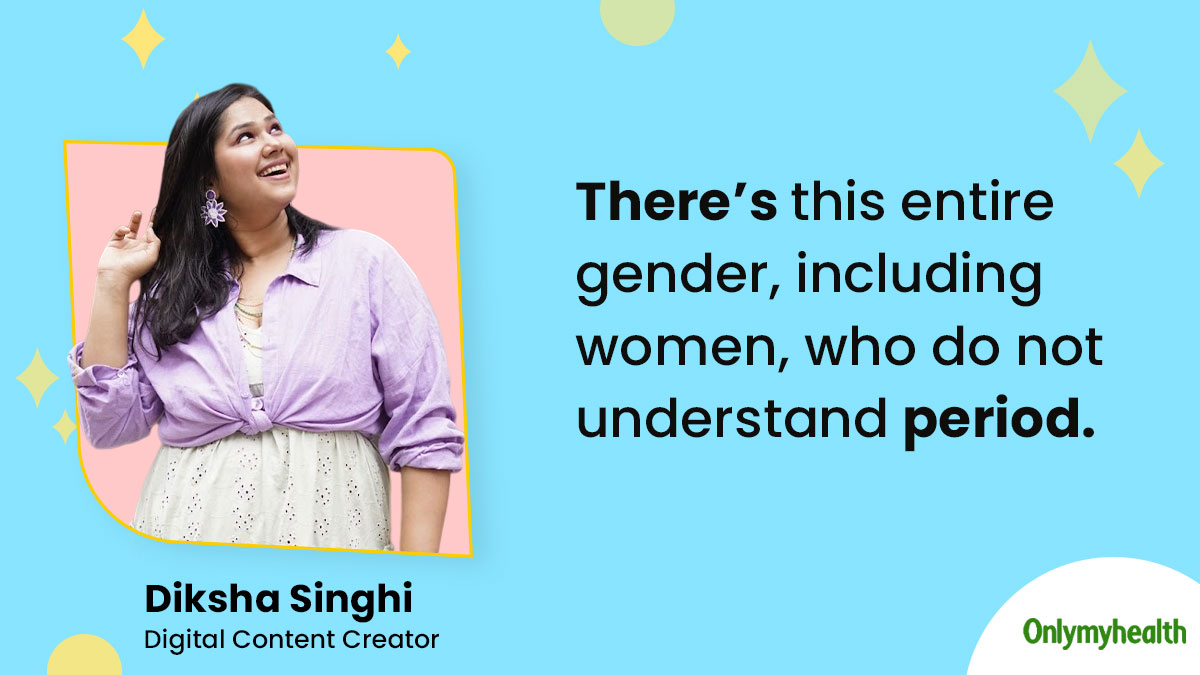 For anyone suffering from PCOS, they'd know that the condition requires heavy monitoring and proper management.
Dr Soumya Krishnaiah, Consultant-Obstetrics and Gynaecology, Fortis Hospital, Nagarbhavi, Bangalore, says weight gain, irregular periods, darkening of the skin around the neck, hair growth on the face, abnormal hair growth on the abdomen, chest acne are some of the common PCOS symptoms to watch out for. In addition, thinning of hair, difficulty conceiving, and mood disorders, such as depression and anxiety are symptoms that can be experienced by a PCOS patient, says Dr Nadig.
For Diksha, PCOS showcases itself in the form of acne flare-ups, bloating and difficulty in losing weight. While working out has helped her manage her symptoms, not doing so gives rise to her symptoms. "It does have a direct relationship with how my body reacts to the condition," she says.
View this post on Instagram
Walking & Strength Training; Key To Fitness And PCOS Management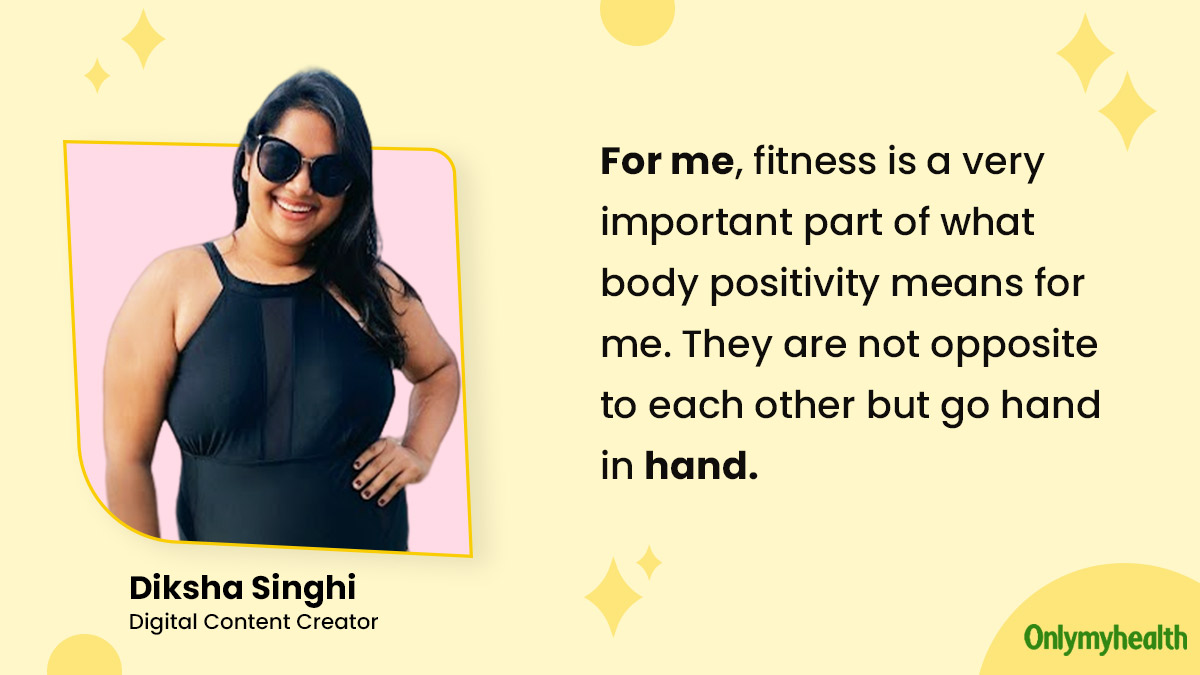 According to Dr Nadig, lifestyle modifications are important in the management of PCOS. "Guidelines recommend promoting healthy lifestyle behaviours in women with PCOS. For patients with excess weight, weight loss of 5-10% is advised with an energy deficit of 500-750 kcal/day. Dietary recommendations include a healthy balanced diet tailored to the individual's needs and preferences. When it comes to exercise, guidelines recommend at least 150 minutes per week of moderate or at least 75 minutes per week of vigorous-intensity exercise for weight loss or weight gain prevention," the doctor recommends.
However, Diksha believes and acknowledges that 'healthy' for everybody could mean different things. Talking about what her definition of 'healthy' is, she says, "My healthy lifestyle journey began even before I was diagnosed with PCOS. I have come to realise that four days of workout a week works best for me. This includes strength training and achieving an average of 7-10k steps everyday, along with basic chores, such as lifting my luggage, and walking my dog. These are the parameters that I see my fitness levels at," she says.
Reminiscing about her past, she remembers the days when she could not even walk a kilometre without thinking of going back home. But now she makes sure to walk 3-4 kilometres or 8-10k steps without any difficulties.
View this post on Instagram
"I Don't Overeat Anymore"
As far as diet goes, Diksha admits that she has a big appetite. However, she makes sure to include as much fibre and protein as she can. While she does not neglect her cravings, she ensures that she does not overeat.
She says, "I had a major problem with binge eating and therefore, the results for my fitness journey will not be that immediate. It has taken me a long time to set up my relationship with food. It will take me many more years to mend my relationship with food. Even though I might not have lost weight in the last few years, I haven't gained any as well, because that cycle of losing weight, gaining weight, has stopped for me and I have been able to live that life where I'm very comfortable in this body."
Also Read: PCOS Management: Role Of Nutrition And Lifestyle Tips
The body positivity influencer shares that there was a time she constantly thought about calories nutrition. She stuck to a specific calorie intake. But the moment she went off the routine, she would go overboard and indulge in 'mindless' eating. That's not the case now, she says. "I eat mindfully now and I know what I am eating," she emphasises.
View this post on Instagram
"I Get Very Anxious Due To My PCOS-Related Acne Flare-Ups"
"It is difficult to say that my PCOS specifically affected my mental health because there are so many things that have led to my mental health issues. There is no way for me to diagnose it now. But it could have been PCOS. For instance, I know that when my skin flares up, I get very anxious. Then some people look at my skin and judge. A lot of people don't even know what PCOS is. There's this entire gender, including women, who do not understand period. Like for instance, I have this terrible terrible menstrual cramps, which limits my activities and my conversations. All of these things do end up taking a toll on me." says Diksha.
However, with age, maturity and awareness, Diksha not only managed her symptoms but also thrived at taking care of her physical and mental well-being.