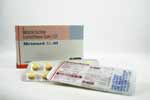 The pharmaceutical and biotechnology company Wockhardt Ltd recalls 109,744 bottles of hypertension drug after it fails dissolution test.
The drug producer Wockhardt Ltd called back 109,744 bottles of a hypertension drug in the US after it could not pass a dissolution test, informed the U.S. Food and Drug Administration.

Recalling of metoprolol succinate was started in the month of April and was posted by the FDA on their website on Wednesday.
The FDA website gave "Failed Dissolution Specifications: failure of dissolution test observed at nine month time point" as the reason behind the recall.

According to FDA, the Class II recall is a condition in which use of or exposure to the product may have temporary or medically reversible adverse health consequences or where the probability of serious adverse health consequences is remote.

The recalled drug for high blood pressure, metoprolol succinate is the cheaper generic form of Toprol which is the branded drug made by AstraZenexa Plc.

The dissolution test is conducted in order to determine the time a drug would take to release the active ingredients into the body.

This helps the test to ascertain the performance of the drug in the body.

Recall of drugs is nothing unusual but as Wockhardt is already facing some regulatory troubles and this recall may toughen the situation for them.

Last year, two manufacturing units of the company were banned from exporting drugs to the US after the FDA found that there were violations in the manufacturing standards and the company could have been compromising on the quality of drugs. Out of those banned plants, one plant was into manufacturing metoprolo succinate for the US.

As published on the FDA website, the plant which manufactured the recently recalled drug is situated in Mumbai.
Image courtesy: www.procanadadrugs.com
Read more on Health News.