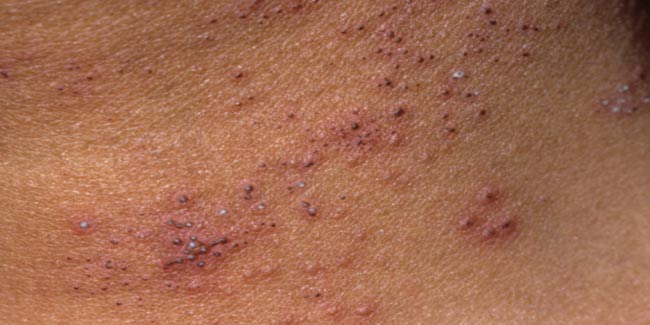 Shingles, or herpes zoster, is a condition that causes painful, blistering skin rash that can last 2 to 4 weeks. In some cases, the pain can even last for years after the rash goes away. This condition is called postherpetic neuralgia (PHN). It is the most common complication of shingles. The risk of shingles and PHN increases with age.
Shingles usually cause pain which is described as excruciating, burning, stabbing, aching, and shock-like. The pain, sometimes compared with pain of labour, can cause depression, difficulty concentrating, anxiety, loss of appetite, and weight loss. The condition can interfere with a person's ability to perform normal activities such as dressing, eating, cooking, bathing, shopping, and travelling. Shingles can lead to several serious complications, out of which eye complications can result in vision loss.
Cause
Shingles is caused by the varicella zoster virus (VZV), the same virus that causes chickenpox. After a person recovers from chickenpox, the virus stays dormant in the body. The virus can reactivate years later and cause shingles, though why this happens is still unknown. A person never develop shingles on the first contact with VZV. For the first time, the person develops chickenpox and only then runs the risk of shingles. Anyone who has recovered from chickenpox may develop shingles. Although even children may develop shingles after chickenpox, the risk increases with age.


Shingles is most common in people who are 50 and older. People who have medical conditions that directly or indirectly affect the immune system, like cancer, lymphoma, leukemia, HIV, or people who receive drugs that suppress the immune system are at greater risk of developing shingles.


Ways to prevent shingles
The only way to reduce the risk of shingles is through vaccination. Zostavax is the only shingles vaccine currently available and frequently prescribed by healthcare professionals. Doctors recommend adults aged 60 years or older to receive a single dose of the shingles vaccine. Even though poor immune response increases the risk of shingles, it is recommended for people who have a weakened immune system to wait for the immune system to get better in order to get vaccinated, or to not get vaccinated at all.
Doctors also don't recommend routine use of shingles vaccine in people aged 50 through 59 years. However, the vaccine is approved to be used for people who are 50 and older. Talk to your doctor about the vaccine to reduce the risk of shingles.
Image Courtesy: Getty
Read more articles on Understand Shingles Herpes Zoster