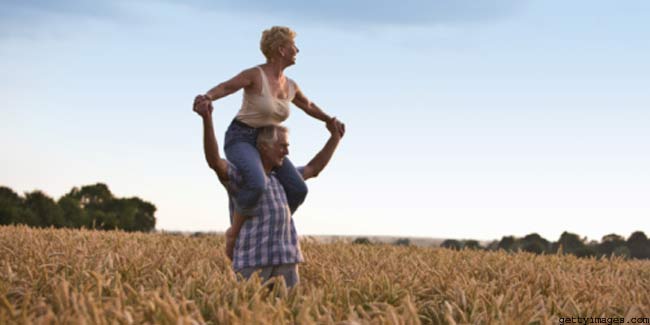 You are as old as you think. Ring your ageing woes to a permanent stop by following quick-to-follow lifestyle changes and laugh your heart out.
Who doesn't want to relish the second innings of their lives. At the age of sixty, a whole new streak of spirit knocks our doors leaving behind the paths of personal and emotional deadlocks.



Indeed, staying young now-a-days is more of a conscious thought rather than a follow-the-trend activity. Experts say that staying young is remarkably simple by following just one golden rule and that is following a healthy lifestyle. There are a few others that follow.
Age Elegantly with Exercising

Indulge in an adventurous activity you always wanted to do; be it scuba diving or rock climbing. These can go a long way in pumping you with enough energy to keep old age effects at bay. It is always advisable to go for walks, either alone, with friends or with your spouse. Len Dartt, author of Causes and Prevention of the Death of Health Care states that one of the steps to prevent ageing is to "exercise, by at least walking, five times a week".
Dieting: The Foodie's Way

Staying young is quite a task today; be it the health spas, fitness, medical or food industry, each has expanded in burdensome total, solely because of people's desire to look 30 at the age of 60. By following some of dietary tips you can achieve that younthful look:

Ishi khosla, Founder, Director- Whole Foods gives tips on how you can stay young forever with diet

• One must replace excessive sugar intake with honey.

• One must not go hungry for long or pick any starvation diet to lose weight.

• One must have loads of raw fruits and vegetables in the form of salads dressed with lemon and olive oil dressing.

• Doctors always advise to go for medical checkups, once in every eight to twelve months.

• Prior to following any kind of diet which guarantees weight loss, one must consult with his or her healthcare provider.
Pursue your Passions
Passions can vary from individual to individual and in accordance to their preference and requirements. "It can be something you wanted to do when you were 20 or it can be something which you've recently discovered- your 60th birthday is the time to go and explore it", says 62-year old Surendra Singh Kohli.
Slash out Stress from your "Best Friends" List

Psychologists suggest that one should not hurry or hate deadlines. "Being pressurized for time on career, occupation and money is a crucial factor for everybody, however it must not surpass the quality of one's life", says Dr Pulkit Sharma Consultant Clinical Psychologist at VIMHANS, Delhi. Take things slowly and change one or two things at a time to maintain a healthy lifestyle, Dr Sharma adds.

Cultivate a Strong Sense of Humour

Laughter, it's said, is the best medicine and should be adopted whenever possible. Additionally, laughter enhances the immune system and lessens pain. Laughing also decreases stress, lowers blood pressure and has an advantageous effect on our overall well-being. And to top it all, it's free!
Nothing replaces Family

Family is one such source of inspiration, happiness and comfort which fills one with 'feel good' factor lifelong. Psychologists suggest that being in touch with one's children after 60, gives one a sense of wholeness. Thus, keeping old age blues at bay.
Give your Lifestyle a Spiritual Bent

Praying acts in a miraculous way which not only strengthens your belief in god but also leads you to his path of trust and contentment, particularly when you don't have anything to hold on to. One must do good to others in any form or size, whether individually or as a part of collective social group.
Be at Ease

This can be fun! Pen down all your feelings on a paper- something what you would want people to write on your epitaph- and let a close relative (preferably your family member) go through it. Let him/her critic your thoughts. This shall help you in knowing how you would like to be remembered after your death.
Follow these simple lifestyle steps in your quest for eternal youth which will not only grant you red-blooded powers of youth but will also give you with an extra edge over the candid rush of energy.

One must remember that beating old age has its own joys and benefits. The key lies in embracing age gracefully and not despairing with ageing.

Read more articles on Anti-ageing.