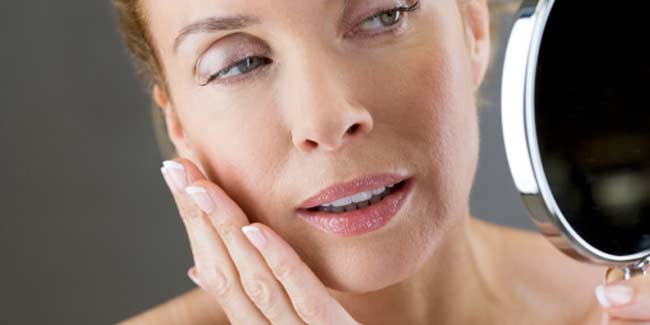 Everybody wants to keep their skin looking its best. If you are willing to take care of your skin properly, it will look radiant irrespective of your age.



Skin care is an important part of a beauty regime for any age. No matter your genetics and the ageing process have an influence on the appearance of your skin, but there are many things that you can do to slow down the ageing process.The following steps will help you keep skin young and fresh.

24-hour skin protection
The most important thing is sun protection, so, you need to wear an SPF to guard skin against any sort of sun damage and the cream works against the pollution by blocking the allergens to enter open pores. Besides sun protection for the day, night moisturising is equally important to make skin look lush and plump. A night cream that has vitamin complex, vitamin C and vitamin E works wonders on your skin while you sleep.

Don't smoke
Smoking can put many negative health effects on the body. What most people know is that smoking causes heart diseases and cancer, but may not know that the nicotine in cigarette smoke can cause skin discoloration or take life off it. When you quit smoking, you not only work towards sporting a younger looking skin but also reduce the risks for medical conditions.

Get rest
A well-rested face is a beautiful face. Get sufficient rest at night if you don't want baggy eyes and dark circles in the morning. According to the National Sleep Foundation, the average healthy adult needs approximately 7 to 8 hours of sleep per night.

Physical activity
Exercise not only keeps fit, but is also a medium to help you sport younger skin. Physical activity becomes important to streamline the blood flow to various parts of the body, which in return enables the restoration of cells and eliminates toxins through perspiration. Everyday exercise leaves skin cool and refreshed.

Diet and supplements
As we age, skin starts to lose its firmness because the skin cells, collagen and elastin begin to breakdown, which cause wrinkles and other skin deteriorations. Diet can be saviour; to help skin stay glowing and vibrant. Eating a balanced diet is the nutritious way to get your share of food for healthy skin. Foods for healthy skin include low-fat dairy products, berries (blackberries, blueberries and strawberries), walnuts, fish, cereals and whole-wheat products. You can consider vitamins A and E supplements to improve the overall appearance of your skin. However, you should always consult your doctor before taking supplements.

Water intake
One can extend skin's suppleness and elasticity if they hydrate their skin every day. Drink a minimum of five to eight glasses of water daily.

Avoid application of oil-based products
Even if your skin type is dry, you should not use oil-based substances on the skin too often. These products clog pores and may cause acne. If you are worried about your skin type and need further assistance on choosing skin care products, consult a dermatologist.
Read more articles on Skin Care.