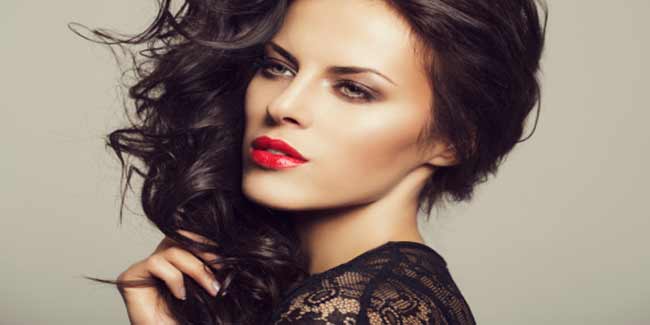 After a long frenzied trend of straight hair, women are now looking forward to see themselves in falling curls. You don't need to worry if you don't have a curling iron because a flat iron can give curls just as good. In fact some women swear by their experience of straightener giving them better, looser, bouncier curls than a curling iron. And, it just takes a few minutes. Are you now wondering how to curl your hair with a flat iron? You just need a straightener that is skinny, has rounded edges and gets hot on the outside.

Here are the step-by-step directions to show you how to hold the flat iron, twist it as you go down a section of hair, and finally, how to curl your hair using a flat iron.


Steps: Before Curling Your Hair with a Flat Iron
1. Make sure hair is dry and brushed through well. Neither wet hair nor damp hair would give you the perfect curls. You could use a hair mousse if you are blow-drying your hair. The extra volume will keep your hair from looking too flat as you curl.

2. You need a thin flat iron of about 2.5 to 5 cm in width as a larger paddle-style won't work. Heat the iron up to a minimum temperature you need for your hair. Ideal heating temperatures for different kinds of hair are:
• Curly hair = 380-430°
• Wavy hair = 360-380°
• Straight hair = 200-360°

3. Now, part your hair into sections starting at the bottom of your scalp. Curl each layer until you've done everything. You'll have better luck curling hair in sections instead of trying to attack the mess at once.

4. Apply a heat protection spray all over your hair and comb through. Spray a tiny bit of hairspray on the hair right before you curl to keep it in place. This creates a protective barrier between the hair and the iron so that the hair doesn't "frizzle" and burn.


Steps: How to Curl Your Hair with a Flat Iron
Decide if you want flicks or curls; yes, they are two different things.

To do flicks, you must:
Start half-way down the length of hair, clamp the iron closed and turn it back on itself in a half turn. You should now have created a U-shape with the hair and the iron.

Keep the iron on that half-turn angle, slowly move it down the hair shaft to the end of the hair. The faster you move the iron, the less pronounced the curl/flick will be. If you like big soft flicks, slow down your iron.

To do curls, you must:
Start fairly close to the scalp; remember it shouldn't be close enough to accidentally burn the hair. Now, clamp the iron to close and turn it back on itself a half turn.




Run the iron slowly down the hair shaft to the end. Again, the slower you move the iron, the tighter the curl. The faster you move the iron, the gentler the wave.
You will be twirling your wrist around while holding the hair with your other hand when making the turn. So you are turning the flat iron, not the hair around the flat iron.

You wouldn't be wrapping all of your hair around the flat iron like you would with a curling iron. Instead you wrap just part of the hair and slowly and carefully pull it down the length of the hair.

The last step to our how to curl your hair using a flat iron guide is to give finishing to your curls. You can leave your hair the way it is when you're finished curling or you can add an additional touch to wrap up the style you want. For loose curls, gently run your fingers through and tousle your hair. For tighter curls that stay put for longer, spray a little hairspray. You may also put a light mist of hairspray all over your curls to keep them sleek and tight throughout the day.

Image Courtesy: Getty/ http://1.bp.blogspot.com/ http://media2.onsugar.com/

Read more articles on Hairstyles.